IIT-ISM sign MoU with NTPC for research projects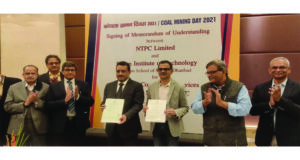 JNS: IIT-ISM Dhanabd signed MoU with NTPC for collaborative and sponsored research projects. The MoU was signed in presence of Gurdeep Singh, Chairman, NTPC and Professor Rajiv Shekhar, Director IIT(ISM) Dhanbad on Saturday.
On behalf of IIT (ISM) Professor Shalivahan signed the MoU while P Mazumdar, ED, NTPC signed from NTPC and was witnessed by Professor A K Mishra, Head, Department of Mining Engineering, Professor Dheeraj Kumar, Dean, IIE and Sanjeev Kumar Singh, AGM, NTPC, Anil Kumar Gautam, Director, Finance, C K Mondal, Director, Commercial, U K Bhattacharya, Director, Projects and other Senior Managers of NTPC, informed Professor Rajni Singh, Dean, Media & Branding of IIT-ISM.
IIT(ISM) will be working on resolving the technical challenges being faced by the NTPC, she said.