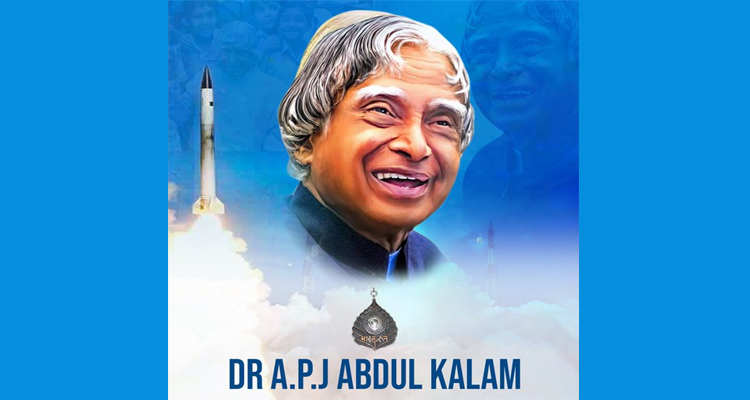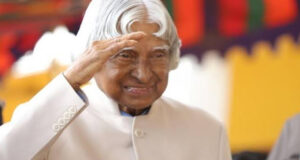 Ashis Sinha I JNS: Former President of India Dr. APJ Abdul Kalam, remembered across the counter on his birth anniversary on Thursday.
Kalam was the 11th President of the country and the great scientist. His birth anniversary is also celebrated as the Student's Day in India as the former President loved spending time with students.
Kalam also known as 'Missile Man' was born on 15 October 1931 in Rameswaram. He died on July 27, 2015, while delivering a lecture at the Indian Institute of Management in Shillong.
Paying rich tribute to APJ Abdul Kalam on the occasion of his birth anniversary Prime Minister Narendra Modi, Home Minister Amit Shah, Defense Minister Rajnath Singh and many other leaders have missed the 'Missile Man'.
PM Modi tweeted, "India can never forget his indelible contribution towards national development, whether he was a scientist or as the President of India. His life journey empowers millions."
"Dr. Kalam was a visionary leader, the architect of India's space and missile program, who always wanted to build a strong and self-reliant India. His contribution in the field of science and education is inspiring to all," Home Minister Amit Shah tweeted.
Defense Minister Rajnath Singh wrote, "Salutations to former President Dr. APJ Abdul Kalam on his birth anniversary. Committed to making the dream of a new and strong India, Kalam Saheb devoted his entire life to building the future of India. He will continue to inspire our future generations. I pay tribute to him on his birth anniversary."
Union Minister Prakash Javadekar wrote in his tweet, "A humble tribute to former President Dr. Abdul Kalam ji on his birth anniversary. His contribution to making India capable, empowered and capable of 21st century is incomparable. His ideals and precious thoughts will always inspire, he is the inspiration of youth."
Ten big achievements of India's 'Missile Man'
APJ Abdul Kalam was the head of many Pokhran nuclear tests. Dr Kalam played a major role in leading the Pokhran-II nuclear tests as the Chief Scientific Adviser to the then Prime Minister.
From July 1992 to December 1999, the nuclear tests under Dr Kalam 's supervision made India a nuclear power.
APJ Abdul Kalam led two major scientific research organisations in India: the Defense Research and Development Organization (DRDO) and the Indian Space Research Organization (ISRO)
Pioneering work in the development and operationalization of 'Indigenous Guided Missiles'-AGNI and PRITHVII is credited to Dr Kalam.
Dr APJ Abdul Kalam was fondly called the 'Missile Man of India' for his work on AGNI and PRITHVI.
Kalam led the project to build the first satellite launch vehicle (SLV) in India.
Dr Kalam worked as the project manager for the development of the indigenous satellite launch vehicle at ISRO for over 10 years.
India's SLV-III successfully deployed the Rohini satellite in near-Earth orbit in July 1980, under the leadership of Dr. APJ Abdul Kalam, making India a member of the exclusive space club.
Dr Kalam has directed projects for India's ballistic missile production. He led the Devil and Valiant programmes, using the technology behind the successful SLV programme to produce ballistic missiles.
APJ Abdul Kalam has made tremendous contributions to the healthcare industry. He has worked tirelessly to make healthcare available to all. Dr. Kalam collaborated with cardiologist Soma Raju and created the 'Kalam-Raju Stent' with a low-cost coronary stent.
Dr Kalam is among the only three presidents of India who were conferred the Bharat Ratna before they were elected President.
Dr Kalam was honoured with doctorates from 40 universities.
Dr Kalam donated his entire salary and savings to a charitable trust- PURA (Providing Urban Amenities to Rural Areas) – that he had founded. He was of the opinion that after becoming the President of India, the Government of India will take care of him till the end of his life, so why not use his salary for better things.