India-Russia also ink pact on human space mission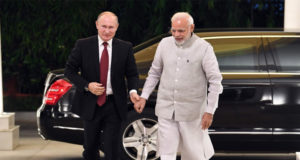 India and Russia also signed an agreement on space cooperation on India's ambitious human space mission project— 'Gaganyaan', apart from the S-400 missile deal, sources said.
The agreement was signed in the presence of both the leaders at the 19th India-Russia annual bilateral summit at the Hyderabad House here on Friday.
According to the media reports, a crucial MoU was signed between Indian Space Research Organization (ISRO) and the Federal Space Agency of Russia ROSCOSMOS' on joint activities in the field of human spaceflight programme Gaganyaan.
An Indian monitoring station will be built near the Russian city of Novosibirsk in Siberia, the agency reported.