India should prepare a 'Roadmap' for the development of Kashmir: US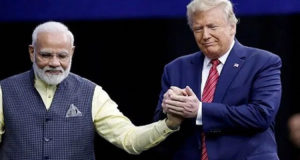 Washington: America said that now the economic and political situation of Kashmir has become normal. In such a situation, India should prepare a roadmap for the development of Kashmir. America also told India that now it should also release the political prisoners of Kashmir. Warns Pakistan, the US said that it should take strict action against the terrorists trying to infiltrate Kashmir.
The government had detained Etiatan National Conference, PDP and separatist leaders only after the special status of Jammu and Kashmir ended. US Assistant Secretary of State for South-Central Asia Alice Wells has said that we are talking to India for the restoration of everyday services in the state and the release of political prisoners.
But, more than that it is necessary to prepare a roadmap for the restoration of the political and economic situation there. Speaking to reporters from the State Department headquarters, Wells said that since the cancellation of the special status of Jammu and Kashmir and not keeping political leaders in custody, the daily lives of about eight million people there have been affected. Wells also said that the United States is concerned about the condition of the valley. We have seen some changes such as postpaid mobile service was restored for 40 lakh people in the Valley in the past but SMS and internet service is still banned. Officials in Srinagar say that internet services were continued in the valley until hours before the Center announced its decision to end the special status of the state by removing Article 370.
However, mobile and landline telephone services as well as internet services were also stopped from August 5. Landline telephone services have been gradually restored after the situation returned to normal. Stepped mobile services were also restored last week, but prepaid services are still discontinued. Meanwhile, a senior US State Department official once again said that US President Donald Trump is willing to mediate the Kashmir issue between India and Pakistan if both countries wish. The senior official said in response to a question, "He (Trump) is definitely ready to play the role of mediator if both countries demand it." It will be India's decision to seek outside help.