Jharkhand bags 'Best Performing State' award in Swachh Sarvekshan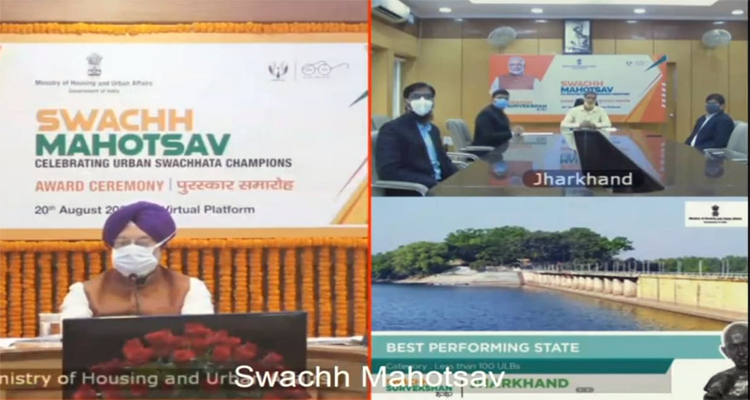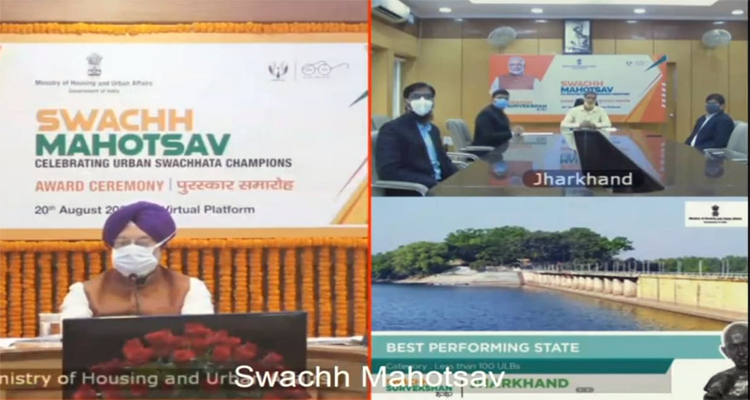 Ranchi: Jharkhand emerged as the cleanest state of the country in the Swachh Sarvekshan 2020 in the category of states with up to 100 Urban Local Bodies' (ULBs).
Union Minister of State for Housing and Urban Affairs (Independent Charge) Hardeep Singh Puri declared the results of the fifth edition of Swachh Sarvekshan on a virtual platform called Swachh Mahotsav in New Delhi on Thursday.
Prime Minister Narendra Modi could not be a part of the event due to unavoidable circumstances and conveyed a message to the officials and representatives of the municipal bodies across the country.
Ministry of Housing and Urban Affairs Secretary Durga Shankar Mishra was also present on the occasion. In the month-long survey which started on January 4 as many as 4242 cities of India participated including 41 municipal bodies from Jharkhand.
In the category of cities with a population of three to 10 lakh, Jamshedpur topped the 'citizen feedback' whereas in the eastern region with a population of 50 thousand to one lakh, Madhupur received the best city award for 'citizen feedback'. For 'innovation and best practices' Jugsalai bagged the best city award with a population of 25,000 to 50,000 in the east zone while Khunti too received the best city award in 'citizen feedback' with a population of 25,000 to 50,000 across the eastern region. In 2018 too, Jharkhand was declared as the 'best-performing state' while it secured the second position in 2019.
Many new initiatives have been started under the guidance of Chief Minister cum Minister, UDHD Hemant Soren regarding urban sanitation, reveals a government communiqué.
Chief Secretary Sukhdev Singh congratulated the Urban Development and Housing Department, municipal bodies and residents of Jharkhand for exemplary performance in Swachh Survekshan 2020.
Expressing his contentment UDHD Secretary Vinay Kumar Choubey said that it is a matter of great pride for the State and the results will further inspire the Department to continue its efforts towards ensuring cleanliness.
On behalf of the State Government, Chief Secretary Sukhdev Singh, SUDA Director Amit Kumar, Deputy Director Ram Krishna Kumar, Assistant Director Vineet Kumar and Swachh Bharat expert Mohammad Sarfaraz were present in the programme through video conferencing. Out of a total of 6000 marks in the cleanliness survey, 1500 points were given each for service level progress, direct observation, certification and citizen feedback. Ranchi Municipal Corporation (RMC) got a total of 3431 points and secured the 30th position as against the 46th spot last year.
Service level progress includes components like solid waste collection, transportation, processing, disposal and sustainable sanitation among others. Out of 1500, RMC got 628.49 points in this category. Out of 1500 marks set for certification, 1000 marks were for garbage-free city whereas 500 for ODF and RMC got 300 points.
Out of 1500 points marked for citizen feedback, 1100 were for questions asked to the common citizen while 400 marks were set for sanitation app. In this category, RMMC secured a total of 1225.92 points.  For direct observation, a team appointed by the Central Government visited residential and commercial areas.