Jharkhand girl invents device for menstrual hygiene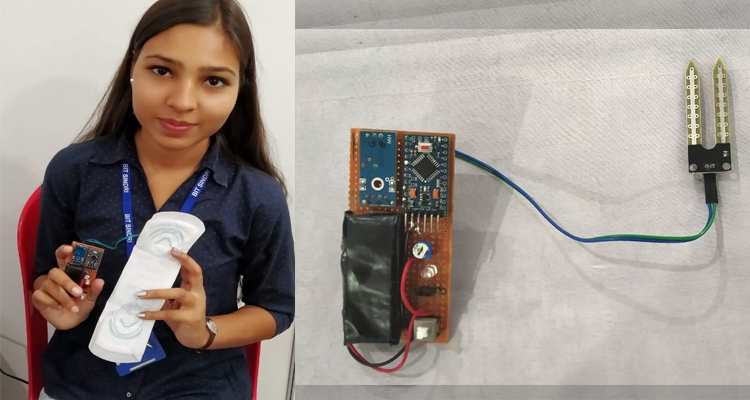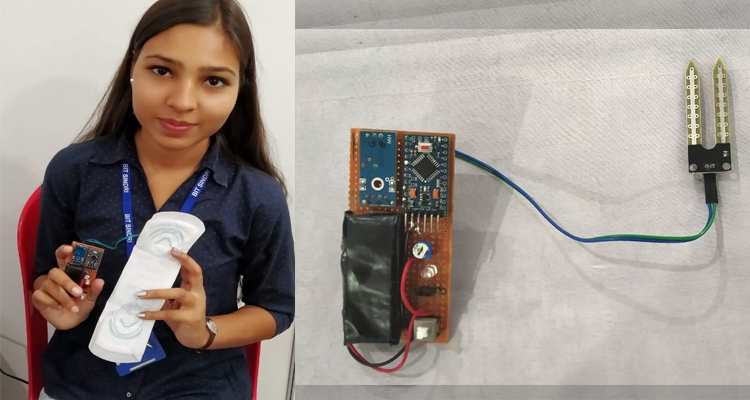 Ashis Sinha I Ranchi: Meet— Anjali Kumari, an innovative 19 years girl who invented a device– "Zuddi" that can help a female to prevent from embarrassing like situation and also provide them with menstrual hygiene.
This idea came from a small daily life problem and thinking its solution amidst lockdown period, imposed to curtail the spread of Coronavirus infection, said Anjali. "Being an engineering student it's also my responsibility to work for the better," she added.
"Zuddi" is an 'electronic kit' that consists of an Arduino pro mini board (a microcontroller board), a moisture sensor with Lm393 circuit, a battery (3.3 V), an output source like an LED or a vibration source along with a reset button, she said.
A probe like a moisture sensor is connected through a long wire from this kit. The device can be affixed or stick anywhere on the undergarment while the sensor (probe like) is placed under the last layer of the sanitary pads or napkins and when the moisture reaches there either in normal or in overflow cases, the device becomes activated and starts to give output signals to prevent getting stains on cloth and hence saves from embarrassment.
This device can also be connected wirelessly with a Smartphone or Smartwatch through Android or iOS application and the user can get the alert on that, said Anjali.
"This signal or alert is also a warning to change the pad immediately in a bid to keep him hygienic," added Anjali.
"An excessively damp pad can harbour microorganisms and cause infection. This, in turn, can cause urinary tract and vaginal infections. If tampons are left inserted for a long time, they can cause toxic shock syndrome, in which the bacteria infiltrates the body, leading to severe infection that can send the body into shock."
Menstrual hygiene is an important issue that affects on the health of adolescent girls and pre-menopausal adult women monthly; around the world, women have developed their own personal strategies to cope with menstruation, which vary from country to country and depend on economic status, the individual's personal preferences, local traditions and cultural beliefs and education status, she said.
Often methods of management can be unhygienic and inconvenient, particularly in poorer settings. In India, between 43 per cent and 88 per cent of girls wash and reuse cotton cloths rather than use disposable pads. So, aiming to provide them menstrual hygiene and to prevent them from embarrassing like situation, I worked for three months to develop this device, said Anjali adding "this is the need of the hour."
My device is recently exhibited in the Technical Exhibition 2020 of Shavak Nanavati Technical Institute, Jamshedpur, got huge appreciations, she said.
Speaking about her innovation Anjali said, actually the name "Zuddi" is derived from a Sanskrit word "Sudhi" meaning purity. The name is given in contrary to the fact that women are considered impure during their menstrual days.
Menstruation is associated with an array of taboos in India. Though many known personalities like Akshay Kumar, Aamir Khan, and Radhika Apte have tried to destigmatise periods and changes do have come, India has a long to go ahead in this regard.
"Presently, this kit costs me Rs 835, but I am sure when it will be produced in bulk or on a large scale the cost would be slashed even more. I am working to get it patented," she added.
Anjali is a native of Ranchi, Jharkhand, a first-year B. Tech (Information & Technology) student of Birsa Institute of Technology Sindri. She did her schooling at Ranchi from St. Michael's School and intermediate from Delhi Public School. She has two siblings an elder sister and a younger brother. Her mother Vibha Devi is housewife and father Sanjay Kumar is a businessman at Ranchi.
My mother is the biggest inspiration for me throughout my life, she inspired me always to work hard and never get disheartened, said Anjali adding "She always stands with me even the circumstances were not in my favour and supported me, uplift me, comfort me and bring joy for me."
I like travelling, adventure and admiring nature; dislike people who do not respect nature. In future also I want to contribute my ideas for the betterment of the society. In her message to the newcomers Anjali said, youth is the biggest power of a nation. If a young mind is determined enough, he can do anything. I always think that determination and dream are very important in life.
At last, I want to request everyone that "Respect your parents, as their efforts can never be compared to anything in the world."
Anjali is a talented student. Society can benefit from this device. It needs to be put down on the ground after a practical investigation, said Dr DK Singh Director BIT Sindri.