Kunj nominated as District President of Maharana PratapMangal Pandey Vichar Manch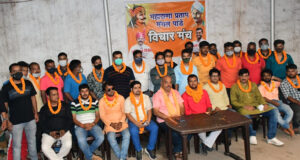 JNS I Bokaro: Former General Secretary of BJP Yuva Morcha Bokaro district, Kunj Bihari Pathak was nominated as the District President of Maharana Pratap Mangal Pandey Vichar Manch in the patronage of the Forum.
Speaking on the occasion, Kunj Bihari Pathak remarked that his effort will be done through this platform to bring the concept of great leaders such as Maharana Pratap and Mangal Pandey to the people and society.
This platform will work for the better future of the youth of Bokaro. Today, the way youth are being exploited in society, is very unfortunate. It is impossible to imagine a better nation and society without taking the youth along.