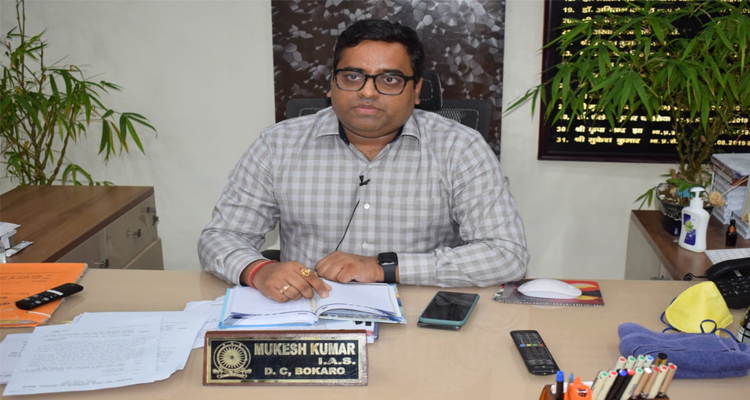 JNS: As per the revised guidelines, shops selling educational books and electric fans, services of bedside attendants of senior citizens and public utilities, including recharge facilities for prepaid mobile phones have been exempted during lockdown to curtail the outbreak of Novel coronavirus, said Mukesh Kumar Deputy Commissioner Bokaro.
"Shops selling educational books for students and electric fans will be allowed to open during the lockdown, which is scheduled to end on 3 May but anyhow they will have to maintain social distancing at their shops," added Kumar.
Following the order issued by the Ministry of Home Affairs, Government of India, to free the agriculture, health, forestry people need items like power shop, medicine shop, and book shops including others from the lockdown Bokaro DC has issued an order on Thursday.
Food processing units such as bread factories, milk processing plants, flour mills, dal mills etc, located in urban areas will be allowed to function during the lockdown.
The order stated that shops and organisations related to the field of agriculture and forestry work including seed distribution, plantation, agricultural machinery, honey farming will be opened. Book shops, Electric fan shops, Fish farming on sea, ports and riverbanks will be free from lockdown with social distancing. Animal husbandry work like cow rearing, well-being, poultry, etc. will also be free from lockdown with social distancing, it stated.
Notably, on Tuesday night the Home Ministry issued an order after receiving some queries with regard to exemptions of specific services and activities allowed through the guidelines issued so far, official sources said.
The home ministry also said bread factories and flour mills located in urban areas could restart operations during the ongoing lockdown to combat the novel coronavirus outbreak. Bedsides attendants and caregivers of senior citizens residing in their homes and public utilities, including recharge facilities for prepaid mobile connection will be allowed to offer services, the ministry said in its order.
Meanwhile, on the initiative of Bokaro DC online smart class has been started on Thursday; being aired through live streaming from the Deputy Commissioner's Facebook page at the District Public Relations Office, Bokaro.
Education of all subjects is being imparted through 'live smart class' by expert teachers through 'Facebook Live' for the students of 10 and 12. Through this live class, students will not only take education but also take their problems in the comment box through live and seek solutions from expert teachers, said Kumar.
The DC said that all the arrangements are being ensured in view of the fact that the students of Bokaro are not impeded during the lock-down and that they get a better education at home.
Presently, this programme is being started for Class 10 and 12 students, but in the coming days, teachers will be inducted in this campaign by preparing a roster for the children of all other classes so that Initiatives should be taken to educate all the students across the district in their homes, said Kumar.
"Students can read online by visiting link- https://www.facebook.com/100011310856660/videos/1057881704598848/," he added.