Mithila Sanskritik Parishad felicitates CEO of BPSCL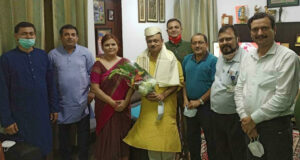 JNS I Bokaro: Mithila Sanskritik Parishad, Bokaro felicitated CEO of BPSCL, Kumud Kumar Thakur for being recently promoted to the post of Executive Director.
Thakur was also the former president of the Parishad. President Anil Kumar, Vice President Animesh Kumar Jha, Rajendra Kumar and General Secretary Avinash Kumar Jha honored Thakur by wearing him a turban, stole and presented a bouquet.
Speaking on the occasion Kumar said, besides being an efficient officer, Thakur is also a respected social figure. He served Parishad as President from 1917 to 2020, his tenure was very commendable.
"It was a good experience for him to join the Parishad. It is my wish that the Parishad should do better work in the interest of society," said Thakur.