Modi has shown, proved '56-inch chest': Anil Vij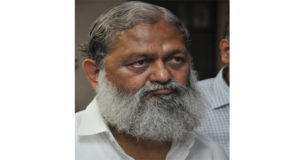 Chandigarh: Haryana health minister Anil Vij telling the opposition members that Prime Minister Narendra Modi has shown his "56-inch chest". In a swift and precise airstrike following the Pulwama terror attack in Jammu and Kashmir, India bombed and destroyed Jaish-e-Mohammed's biggest training camp in Pakistan early Tuesday, killing a "very large number" of terrorists, trainers and senior commanders.
Firebrand BJP leader Vij told the House that Modi has shown to the whole world that terrorism cannot be tolerated and those who sponsor it will also be taught a lesson.
"What Modi says, he does. He has shown that terrorism cannot be tolerated… Pakistan has been taught a lesson, we have hit them inside their home. This is called 56-inch chest. This is called a lion's chest," Vij said.