Narendra Modi resigns as PM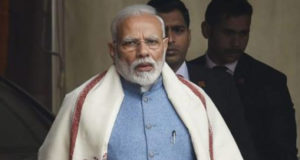 PM Narendra Modi resigned on Friday and tendered his resignation along with the Council of Ministers to the President Ram Nath Kovind.
The President has accepted the resignation and has requested Narendra Modi and the Council of Ministers to continue till the new government assumes office, a communique from the Rashtrapati Bhavan said.
Earlier, the Union Cabinet had recommended the dissolution of the 16 Lok Sabha during a cabinet meeting at New Delhi.
The Government formation for the BJP-led NDA (II) will be set in motion on Saturday with the newly-elected MPs formally electing Narendra Modi as their leader in Parliament's central hall.
While the BJP has won 303 seats, the NDA has 352 members in the Lok Sabha. Modi is also expected to address the MPs following his election as their leader. BJP Parliamentary Party meeting will precede the NDA meeting