Neelkamal Sinha joins as new principal of DPS Chas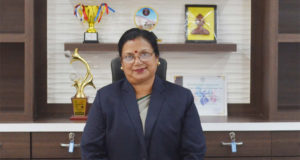 JNS: Neelkamal Sinha took the charge as Principal of Delhi Public School Chas on Thursday, which has now come up with its nursery school branch at Chas township area too.
Sinha, a noted academician, having more than two decades of experience in teaching, management and administration today laid stress as for how various Olympiads grooms up a child from primary stage to face various competitions in examinations which one faces in various stages of life.
She is also the General Secretary of Dr. Radhakrishnan Sahodaya School Complex elaborated that 'Olympiad examinations at school level are competitive examination,  based on the school syllabus, which are conducted through various independent organizations which promotes Science, Mathematics, General Knowledge, Computer education and English language skills among school children in India through various Olympiad' which is the reason  students of Bokaro schools  who have excelled in different  Olympiads since the last two decades   have earned big names  on global level  getting exposure  on  international platform  of education. Children from Bokaro have made their mark up to the international level.
"Most of the parents and students have the wrong notion that Olympiads is a burden along with the routine studies but in reality, Olympiad exam provides a unique competitive platform wherein many a genius can be identified"advocated the new principal who has prepared a blue print of all round development of a child studying at the school.
Appearing for Olympiads motivates students to strive for better and obviously, a rank in the Olympiad motivates a child further. The patterns of questions in the Olympiad are conceptual which urges the students to use their analytical skills to solve them thereby making them understand the topic much better. This, in turn, helps in their general studies", she said.
Supporting the students to appear and participate in such Olympiads Sinha remarked that such exams catalyses the thinking prowess and cultivates the problem-solving skills of the students thereby helping in the overall development of a child from a young age.