'No face masks, no goods or services in Bokaro'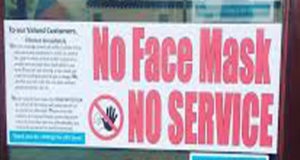 Bokaro: Wearing Face Mask is now mandatory in Bokaro district. District administration Bokaro made it mandatory for people to wear masks in public places in a bid to check the spread of the novel coronavirus infection.
The administration also enforced 'no face mask, no services or goods' rule for the buyers at shops or establishments.
Deputy Commissioner Bokaro, Mukesh Kumar instructed officials to ensure that there is sanitiser at business establishments and customers wear face masks. Kumar convened a review meeting with officials, industrialists and members of Bokaro Chamber of Commerce and Industries and explain them lockdown 4.0 guidelines in details.
Kumar said that shops selling construction material, cement, steel, electrical and wine shops can operate. He told the authorities to make sure that customers wear face masks and practice physical distancing while purchasing. He directed the shop owners not to sell products to customers who do not follow norms.
The state government has allowed the opening of godowns, warehouses, shops selling hardware, construction-related items, stationery, retail outlets of telecom companies and service centres of mobiles, according to an official order.
Private offices, e-commerce (both essential and non-essential), retail liquor shops, intra-district and inter-district movement of taxies on hire is also permitted in the lockdown.
"All activities permitted prior to this order shall continue to be permitted like agriculture-related activities, movement of goods (essential and non-essential) and the like," it said.
"Do business fearlessly but maintain social distancing along with other norms in your premises," DC asked the businessmen.
He said that all stores of essentials services should be opened between 7 am to 7 pm only.
"It mandatory for every resident of the district, who is required to move out of the house due to urgent work, is required to wear a mask and comply with social distancing," said Kumar. He said that if any person is found outside wearing masks and violating social distancing, then strict legal action will be taken against them.
"If the mask is not available, self-made masks or towel and handkerchiefs etc. can also be used," added Kumar.
"All the office bearers and police officers of the district and the heads of all other public sector undertakings and private companies are requested to ensure strict compliance in their establishments as well as in their areas even at their own level," said DC.
Appealing to mass to stay indoors and follow the lockdown strictly to prevent the spread of COVID-19, Kumar said people should venture out only in cases of emergency and to purchase essential commodities. "They should return home as soon as the purchase is done and not linger on roads," he added.
"Police can now arrest anyone found outside without good reason," he said.