One contract worker died, another injured at Bokaro Steel Plant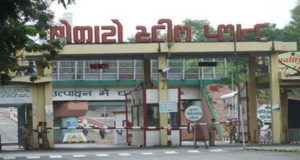 Ashis Sinha I Bokaro: A contract worker died while another severely injured in two separate incidents occurred at Bokaro Steel Plant (BSL) on Tuesday noon.
The accidents occurred over the safety violations at the BSL plant, said Rajendra Singh, General Secretary of Krantikari Ispat Mazdoor Sangh (KIMS) and a member of NJCS.
The first incident occurred in the Coke Oven Battery-8 at around 12.30 pm. Nageshwar Patel (50) an employee of NP construction was felled down from a height (around 30 feet) while he was engaged in pipeline shifting work at EB-14 cellar of the Coke Oven Battery, said and eyewitness.
"Suddenly Patel loss the control, fell down and succumbed to head injuries," added the eyewitnesses.
Merely around two hours after the incident, another accident occurred in the CCS department in Steel Melting Shop-2 (SMS). Dilip Manjhi, a contract worker of M/s Janta Construction got multiple injuries when the transverse stand of mixer crane-1 got unbalanced and resulted in injuries to Manjhi, said eyewitnesses.
Immediately with the help of co-workers, he rushed to the Bokaro General Hospital where his condition is said to be stable, the official said.
Patel probably slipped and fell down around 3m of height and succumbed to head injuries which resulted in death. Expressing their grief on the death of Patel the BSL officials said that compensation and job to the next kin of the deceased have been offered. Inquiry committees have been set to ascertain the cause behind the incidents, said a BSL PR official.
Meanwhile, BSL officials appealed to the entire plant workers to strictly obey the safety rules.