Online PhD Programmes : UGC, AICTE warn students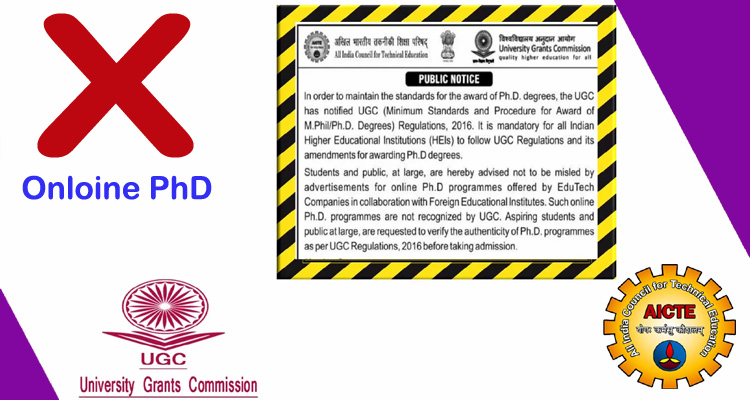 JNS: The UGC (University Grants Commission) and All India Council of Technical Education (AICTE) have issued a warning to students that it does not recognise online PhD programmes provided by EdTech (educational technology) companies in partnership with international educational institutions.
These online PhD programmes are not recognised as per their guidelines, the notice reveals issued by these controllers of higher and technical education.
UGC has notified the Minimum Standards and Procedure for Award of MPhil, PhD degrees, Regulation 2016. "It is mandatory for all higher educational institutions (HEIs) to follow UGC Regulations and its amendments for awarding PhD degrees," the notice stated.
In March, the UGC proposed amendments to the existing guidelines for PhD programmes. According to UGC (Minimum Standards and Procedure for Award of MPhil, PhD degrees) 2022, it proposed to fill 60% of the total seats of PhD by National Eligibility Test (UGC-NET) or Junior Research Fellowship (JRF)-qualified students and the remaining 40% through the entrance test conducted by universities.
The UGC dual-degree guidelines issued on April 12 allowed students to pursue two full-time academic programmes simultaneously either at the same university or from different universities. However, the guidelines are applicable only to students pursuing academic programmes like undergraduate, postgraduate, diploma and certificate courses. PhD programmes do not fall under the guidelines, it informed the universities.
The notice urged students not to be misleading by the advertisements for online PhD programmes that are being provided by EdTech companies in partnership with educational institutions located outside the country. The UGC does not acknowledge these kinds of PhD programmes that can be completed online.
UGC and AICTE have issued a statement asking prospective students and the general public to verify the legitimacy of PhD programmes in accordance with the UGC Regulation 2016 before enrolling, it said.
Earlier this year, UGC and AICTE both issued a joint notice requesting recognised universities and institutions to refrain from delivering courses in remote learning and online modes in collaboration with EdTech companies, stating that no "franchise" deal is authorised under the April guidelines.
Under its new regulations, the UGC has also prohibited students pursuing PhD programmes from obtaining two academic degrees concurrently.
According to rules announced in April, students from all other courses, including diploma, undergraduate, and postgraduate programmes, will be permitted to pursue two academic programmes, either in physical mode or open or distant mode.