Over 7 kg uranium seized, 7 arrested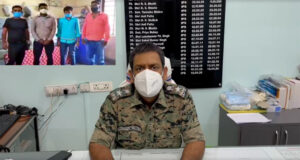 Ashis Sinha I JNS: Following the inputs from the National Investigation Agency (NIA) Bokaro Police has arrested seven people and seized around 7.5 kilograms of natural uranium – a highly radioactive substance at Bokaro district in Jharkhand on Thursday.
The seized uranium (7.5 kgs) is said to be worth around Rs 22 crore; were marked with a 'Made in USA' stamp, police sources said.
The matter is being investigated in a confidential manner. However, this case may be linked to an international uranium smuggling gang, said Chandan Kumar Jha Superintendent of Police Bokaro.
The arrested were identified as Bapi Chandra a resident of Chas, Anil Singh of Jaridih, Deepak Kumar Ranipokhar, Krishna Kant Rana of Chira Chas, Hare Ram Sharma of Balidih, Mahabir Mahato, and Pankaj Mahato resident under Herla Police Station under Bokaro district, informed SP.
Acting on a tip-off that Bapi Chand Dutt, a resident of the Chas, was searching for a customer to sell one gram of uranium, police rushed the spot and arrested Bapi. Police also seized a uranium sample of 1.06 kg in a leather pocket from his possession, said SP.
During interrogation, Bapi revealed the names of Anil Singh, Deepak Kumar, Krishnakant Rana, Hareram Sharma, Mahabir Mahato and Pankaj Mahato, who were arrested from Jaridih, Herla, Telo, Balidih and Chas police stations.
Later, police conducted a raid in Rajendra Nagar at Jainmore and recovered two packets of uranium of 900 grams each in leather pockets and 4.5 kg of uranium in a poly beg, said Jha.  "Police also seized seven mobile phones and a motorbike (JH09W 1987) from their possession," added SP.
Notably, around 7.10 kilograms of uranium were seized and the police arrested two in Maharashtra on 6 May.  The uranium recovered was to the lab, which said in its report that it was 'natural uranium'; it is highly radioactive and poses a danger to human life.
The value of one kilo of uranium after that amounts to about three crores, according to market value, it said.
According to the experts, uranium is used for radiation in some medical techniques and as a counterbalance weight in airplanes, including nuclear explosives and other things.