Over hundreds of women honoured on International Women's Day at Bokaro
Bokaro: International Women's Day celebrated with pomp and glory in Bokaro; women from different walks of life, who have contributed and played an important role in the development of society, were felicitated during several programs held across the district. Over hundreds of women were honoured on this eve in Bokaro.
Several events were organsied to commemorate the day. Speaking in a function organsied by the district health department in Nayay Sadan auditorium, Dr. Renu Bharti Deputy Superintendent Bokaro Sadar Hospital said, "Women are not only gaining proficiency in every field on the strength of their hard work, mettle and meritorious power, but they are ahead of males in many areas."
In every field, women are walking step by step with the men and have contributed better during coronavirus pandemic, she said.
Vinod, a social activist, said, in our Indian culture, respect for women is very important; where the woman is worshipped, the deities reside there. "We should respect them," he added.
International Women's Day honours and remembers the work of the Suffragettes celebrates the achievements of women over the years and reminds the inequalities that are still to be redressed. In the year 1911 the first International Day was celebrated, said Poonam a social activist at Bokaro.
"The objective of International Women's Day is to promote women's rights and world peace," she added.
Meanwhile, several PSUs, private firms, schools, and district administration offices were felicitated women employees on this eve for their achievements and outstanding contributions.
Deputy Commissioner Boakro Rajesh Singh wished all the women the best of International Women's Day and said that there is a continuous effort by the government to protect the rights of women.
"One Stop Center" has been started for the convenience of women, which will prove to be a milestone for women, said DC.
Women suffering from any kind of violence like rape, sexual violence, domestic violence, trafficking, acid attack, witch hunting, dowry-related violence, child sexual abuse, child marriage, foeticide may get assistance immediately at this center, including medical support, legal aid, mental and emotional supports under one roof. Sometimes women can get a temporary place to stay if needed, he said.
This is the concept of One Stop Center, this center is being operated by the Ministry of Women and Child Welfare, he said.
BSL felicitates 27 women employees on International Women's Day
On the occasion of International Women's Day, at least 27 women employees of Bokaro Steel Plant (BSL) were felicitated for their outstanding contributions at their work.
The function was conducted in online mode in which Amarendu Prakash, Director-in-charge, was the chief guest. Executive Director (Medical and Health Services) Dr. AK Singh, Executive Director (Projects) and Additional Charge (Personnel and Administration) R Kushwaha, Executive Director (Materials Management) VK Pandey, Executive Director (Operations) Atanu Bhowmik, Chief General Managers, Head of Department and women employees of BSL were connected online.
A short film based on women employees was also screened by the Public Relations Department on this eve.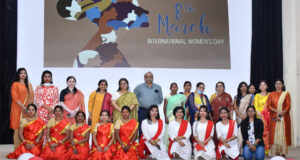 CSIR-NML observes International Women's Day
CSIR-NML also observed International Women's Day; celebrations were organised by the NML staff club with a theme of "ChooseToChallenge". Debarati Chattoraj was the chief guest on the occasion. In her address, she mentioned that we women always "choose to challenge" the status quo.
While welcoming the gathering Dr. I. Chattoraj, Director, CSIR-NML appreciated the women employees working at the laboratory. He mentioned, "there is subconscious gender bias in many forums but we need to come out from this biasing."
He also emphasised the contributions of women employees at CSIR-NML and mentioned that "at CSIR-NML, women employees are our strength". A video clip was presented on the achievements of CSIR-NML women employees in various fields. Cultural programme by women employees followed by Rangoli, Mehndi, Nail Art competitions were also organised on this occasion. On this occasion, two women janitorial staff were felicitated for their dedicated work during the year.
Priya Toppo, Lady representative, CSIR-NML Staff Club proposed the vote of thanks and expressed her appreciation to all the members of the organising committee for their untiring effort in making the programme a success.