PM Modi lays foundation stone for Ram temple in Ayodhya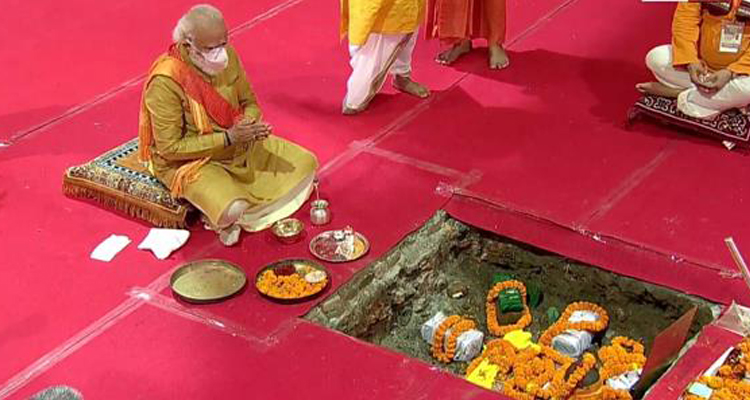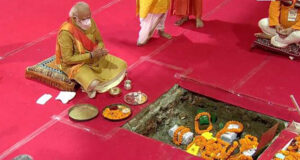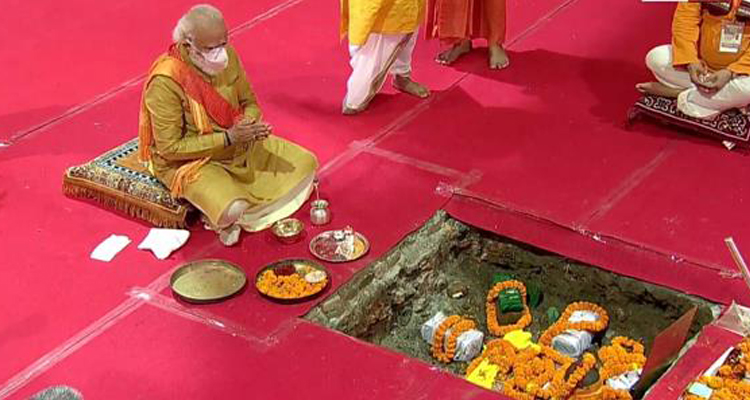 Ayodhya: Prime Minister Narendra Modi laid the foundation stone for a grand temple at the site believed to be the birthplace of Lord Ram at Ayodhya in Uttar Pradesh on Wednesday.
PM Modi offered prayers and put silver bricks during the rituals of the groundbreaking ceremony the formal launch of the temple construction. Bricks donated by devotees from across the world in 1989 would be used as the foundation stone for the construction of the temple. Notably, there are 275,000 such bricks out of which 100 bricks with 'Jai Shri Ram' engraving have been taken, said a priest.
Around 175 guests have been invited for the "Bhoomi pujan" ceremony.
PM Modi is the first prime minister to visit the Ram Janambhoomi and give prayers in the temple complex where the lord has been worshipped since 1949.
There was a controversy over a small plot of land on which a mosque was built in the 16th century; the Hindus claims that the Babri Masjid was constructed over a temple dedicated to Lord Ram, the birthplace site of the lord. The construction of the temple was made possible by a judgment of the Supreme Court, which ended a decades-long legal battle and awarded the site to Hindus.
A 5-acre plot at another site has been given to the Muslim community to build a new mosque to make up for the 500-year-old Babri Masjid that was destroyed by a mob in 1992, it reported.
Days earlier Ayodhya was all decked up for the "Bhoomi pujan" ceremony. Rituals were held across the city to mark the occasion. A four-phased Ramarchan puja, was begun on Tuesday— a prayer to invite all major gods and goddesses. Diyas or lamps were lit at temples across Ayodhya. On Shravan Purnima, the last day of the holy month of Sawan, rituals of aarti and havan were performed at Ram Ki Paudi.