PM Modi Flags Off India's Fastest Train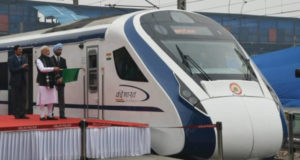 New Delhi: Prime Minister Narendra Modi on Friday flagged off India's first semi-high speed train, the Vande Bharat Express from the New Delhi Railway Station.
"I am grateful to designers and engineers behind Vande Bharat Express which will take its first trip from Delhi to Varanasi today. With our sincerity and hard work in the last 4.5 years we have tried to improve railways," the Prime Minister said.
Also known as Train 18, Vande Bharat Express train will travel from Delhi to Varanasi in 9 hours and 45 minutes. A senior railway official said that tickets of the first commercial run of Vande Bharat Express on 17 February.
Train 18 has indigenous electric multiple units (EMU) manufactured by the Chennai-based Integrated Coach Factory. Built at cost of Rupees100 crore, the train has 16 compartments, including two first-class coaches has carrying capacity is 1,128 passengers, with each coach accommodating 78 people and 52 in the first class.
This train is electrically operated equipped with automatic sliding doors similar to those in metro coaches. It has cushioned comfortable seats, vacuum toilets and a better interior design than the Shatabdis.
It can run at a maximum speed of 180 km per hour and during trials, the highest operational speed achieved was 160 km per hour.  All the toilets of the high-speed train are bio-vacuum type. Every seat has dual mode lighting that can be personalised for every seat. The coach of the train has a pantry facility to serve hot meals and, hot and cold beverages. The train has a regenerative braking system which can save up to 30 per cent of electrical energy.
The tickets for Train 18 can be booked online; the chair car ticket will cost Rs. 1,760 while passengers will have to pay Rs 3,310 for the executive class.