Police bust inter-state vicious Cybercriminal gang; arrests seven.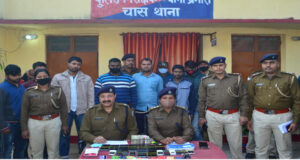 Ashis Sinha I Bokaro: The Bokaro Police on Sunday busted a gang involved in cyber fraud by arresting its seven members, including one woman of the inter-state vicious gang under Chas police station last night.
Police recovered Rs 4.18 lakh cash, 19 SIM cards of different mobile companies, 2 gold chains, an SUV (white color Scorpio) vehicle (Regn. No. – BR01PB – 8850), 7 bank's passbooks, 7 Cheque books, 18 ATM cards, Keypads along with 19 mobile phone sets from their possession, informed Poonam Minz, Traffic DSP Bokaro cum-in-charge DSP Chas.
"Working on a tip-off, a special team of police conducted the raid at Yamula Villa Hotel Chas and arrested the criminals; police on the hunt to arrest other gang members," said Rampravesh Kumar, Inspector-in-charge of Chas police station.
During interrogation, the criminals confessed their crime and given vital information about several other gangs involved in cybercrime and operating the offense. They told their names as– Vijay alias Vir, a resident of UP, Aatma Nand Kumar (20) and Gaurav Kumar both are the residents of Nawada (Bihar), Mintu Kumar of Sekhpura Bihar, Avinash Anand resident on Nalanda (Bihar), Rajmuni Sahgal, Kumar Kumar and Anita Kumar residents of Nawada (Bihar), informed Kumar.
We also recovered several increment documents, bank account details from their possession too, he said, adding, "interrogation are still on, police on the hunt to nab other gang members.