Political temperature rises as campaigning picks up pace in Giridih, Dhanbad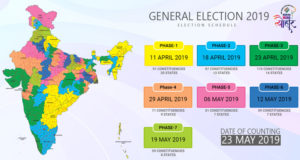 JNS: With the Lok Sabha elections just around the corner, the political temperature in Dhanbad and Bokaro districts is set to soar as campaigning has picked up pace. On Friday, election symbols have been allotted to all qualified contestants to contest the poll for Giridih and Dhanbad Lok Sabha seats by their respective returning officers.
A total of 20 candidates are in the fray for Dhanbad and 18 for Giridih LS seat. Both constituencies will go to poll on May 12.
Campaigning is gradually picking up pace in both constituencies as parties have started reaching out to voters. In Dhanbad constituency, the BJP seems to be ahead in the campaign as its vehicles already hit the roads a couple of days ago.
Congress candidate Kriti Azad recently visited the house of former ministers, MLAs and their family members. Azad also held a meeting with Congress workers at his office and directed the workers to start mobilising people in the city.
PN Singh, Jagarnath Mahato, Chandra Prakash Choudhary along with other candidates are electioneering in the rural as well as urban areas. They are on extensive touring in their constituencies; holding corner meetings in the township areas too.
"Urban areas were equally important as the rural belt, said Jagarnath Mahto. It was not just the rural voters but the urban voters could also swing votes in favour of a candidate and ignoring them is not advisable for anyone contesting the election," he said.
Meanwhile, Union Home Minister Rajnath Singh, Union Minister for Road Transport & Highways Nitin Gadkari, Congress General Secretary Priyanka Gandhi Vadra and Congress President Rahul Gandhi are likely to hold a rally in Bokaro and Dhanbad in support of their constants, party spokesperson said.
Both constituencies will see a bipolar (two-cornered) contest between the NDA and Grand Alliance candidates.
Giridih will witness a contest between Chandra Prakash Choudhary the AJSU candidate (as an ally of BJP under their alliance deal) and Jagarnath Mahato the Jharkhand Mukti Morcha (JMM) candidate contesting under the Mahagathbandhan pact.
For Dhanbad Lok Sabha seat PN Singh the sitting MP of BJP and Kriti Azad fighting on the Congress ticket.