Rotary Midtown Couples felicitate Class X Board Exam's toppers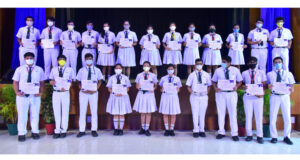 Bokaro: Rotary Midtown Couples, Bokaro felicitated the top ten students of DPS Bokaro, Class X CBSE Board Examination, 2020; the felicitation ceremony was organised in DPS Bokaro campus to appreciate and encourage the students who achieved record-breaking results in Class X CBSE Board Examinations, 2020, informed School authority.
Notably, DPS Bokaro, has surpassed all its previous records by performing exceptionally well in the CBSE X and XII Examinations 2020. The topper of the school Harsh Rai is also the state topper with 99%.
The Rotarians who felicitated the toppers included Punit Johar (President), Ranjan Kumar Gupta (Secretary), Amisha Agarwal (Vice President), Vikas Jain (Treasurer), Saajan Kapoor       (Former President) and Divya Johar (First lady) along with Anup Agarwal (District Governor, Bokaro District).
Punit Johar while addressing said, "We are felicitating the students to acknowledge and honour their hard work and exceptional results. Such results are a reflection of the dynamic leadership of the Principal, A.S. Gangwar who is instrumental in ensuring the holistic development of the children. "
DPS Bokaro was also awarded a memento by Rotary Midtown Couples, Bokaro for the historical performance of the school in scholastics and co-scholastics area. Principal, DPS Bokaro received the memento from Punit Johar (President), Rotary Midtown Couples, Bokaro.
A.S. Gangwar, Principal, DPS Bokaro, expressed his heartfelt gratitude towards the Club for honouring the students. "The key to the success of our school is the synergy between the dedicated teachers, hardworking students and the vibrant parent community. We are all interdependent. It is really heartening to witness the co-operation and support we receive from the parents."
"I hope the students who are felicitated today will feel inspired to do their best in their fields of choice. You have made us all proud, the school, the parents and the city. May God bless you." he added.
The top ten students felicitated were: Harsh Rai – 99%; Soumya Thakur- 98.2%; Saksham Kumar-97.8%; Nishit Roshan, Rohit Verma, Harshit Kumar, Aditi Agrawal and Aameya Devansh – 97.6%; Anshu Priya, Aditya Raj, Anushka Srivastava and Ayush Amlan – 97.4%; Ayushi Sinha- 97.2%; Harsh Bihany, Asmi Srivastava and Atithi Chauhan – 97%; Tejaswani, Kushagra Patodia, Akshit Vrat and Shikhar Sharma- 96.8%; Mitali Singh, Sahil Shekhar, Kavya Jha- 96.6%; Nancy Raj and Aparajita -96.4%, said school authority.