Scientists develop a machine to identify protein species that trigger Parkinson's disease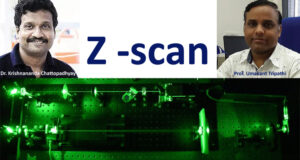 AShis Sinha I Dhanbad: IIT-ISM Dhanbad Prof. Umakanta Tripathy and his team developed a Z-scan machine to provide a solution for the treatment of Parkinson's disease in collaboration with Prof. Krishnananda Chattopadhyay and his team from CSIR-Indian Institute of Chemical Biology (IICB) Kolkata. The other team members are Sumanta Ghosh, Sakshi, Bikash Chandra Swain, and Ritobrita Chakraborty.
Prof. Umakanta said the accumulation of an inherently disordered protein Alpha-synuclein aggregates in brain tissue plays a pivotal role in the pathology and etiology of Parkinson's disease. Aggregation of Alpha-synuclein has been found to be complex and heterogeneous. Because of the inherent complexity and large dynamic range (between few microseconds to several days), it is difficult for the conventional biophysical and biochemical techniques to sample the entire time window of Alpha-synuclein aggregation.
Here, for the first time, we have introduced the Z-scan technique as a novel tool to investigate different conformations formed in the aggregation kinetics of Alpha-synuclein, in which different species showed its characteristic nonlinear features, said Prof. Umakanta. "A switch in the sign of the nonlinearity has been observed for the first time as a signature of the late oligomeric conformation, a prime suspect that triggers neuronal cell death associated with Parkinson's disease, and a device, which monitors this conveniently can be beneficial for both pharmaceutical as well as clinical research," he added.
For example, in the near future, this tool can be used to screen blood plasma to find the aggregated toxic species of the protein, Alpha-Synuclein, for a possible diagnosis of Parkinson's disease because the Alpha-Synuclein protein is also present in the plasma of human blood, said Prof. Umakanta.
Besides, this tool can also be used for drug screening to find a suitable candidate to cure Parkinson's disease. Here, the drug that can inhibit the aggregation process of the Alpha-Synuclein protein from preventing to form the toxic species can be easily identified through our device, he said.
"Nevertheless, we believe that this simple, inexpensive, and sensitive device can also have potential future applications in detecting or monitoring conformations in other essential proteins related to different neurodegenerative and other human diseases," he added.
Notably, until now, Parkinson's disease is incurable, and it is a common neurodegenerative disorder.