Solarisation of Agriculture can save 12,465 crores for state exchequer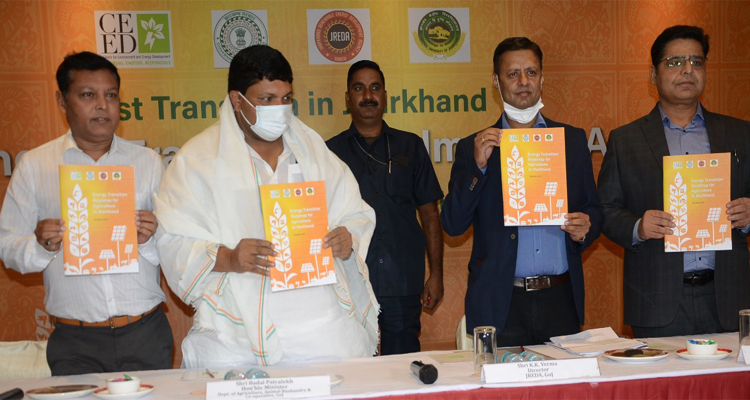 # Infusion of solar energy in agro value chain can avoid CO2 emissions of 36.4 million tonnes in next 15 years
Ranchi: A roadmap on Energy Transition in Agriculture sector was unveiled by Badal Patralekh, Minister for Agriculture, Animal Husbandry and Cooperative Department today, which posits a visionary policy approach for the next fifteen years in the agriculture sector and clearly demarcates the path-breaking role of renewable energy in ensuring a low carbon development pathway in the state.
The roadmap has been prepared by Jharkhand Renewable Energy Development Agency (JREDA) and Centre for Environment and Energy Development (CEED) in association with Central University of Jharkhand (CUJ), which meticulously maps out the infusion and projections of renewable energy in the entire agro value chain.
The conference set out policy level discussion with the key aim to address the structural problems in the agro sector by altering the age-old subsistence nature of farming and accelerating the growth trajectory in the state.
Lauding the initiative of preparing the much needed roadmap, the minister said, "Indeed this is an important document as it chalks out a strategic path for increasing agro productivity and promoting enterprising activities through sustainable means. The state government is committed to uplift the morale of farmers and keen to strengthen the farming practices through suitable programs and schemes."
"We look forward to the key recommendations of the report and will try to incorporate them in our programs," he added.
This report emphatically notes that by solarising the agriculture process, the state government will be able to save around Rs 12,465 crores along with adding a solar capacity of 4250 MW. In the distressing times of climate impacts, cleaner energy sources like renewables can bring several environmental co-benefits; similarly solarisation can be instrumental in avoiding CO2 emissions of more than 36.4 million tonnes in next 15 years.
Furthermore, solarisation of 234000 grid connected pumps and installation of 405447 stand alone off-grid solar pumps can cater to the demand of around 700 MW. For augmenting the logistic infrastructure in the rural regions, installation of 8343 micro cold storages can create a cumulative storage capacity of 3.64 lakh metric tonne during 2021-22 to 2037-38. The report also notes that development of 81000 warehouses facilities in villages can lead to a solar rooftop potential of 160 MWp in the state.
Speaking on the occasion, KK Verma, Director, JREDA said that, "As a State Nodal Agency, we are committed to promote infusion of renewable energy in every sphere of economic activities and this roadmap is one of key steps towards achieving this.
Solarisation is an exciting opportunity which can be materialised through separate agriculture solar feeders, solar irrigation pumps, solar rooftop based cold storage infrastructure and various rural enterprising activities catalysed through Decentralised Renewable Energy (DRE) based solutions.
JREDA will take the lead in facilitating tech know-how, capacity building and training support to the farmers and rural entrepreneurs to bring noticeable change in the overall farming practices."
Elaborating the intent behind this initiative, Ramapati Kumar, CEO of CEED said, "The roadmap brings a compelling economic argument in favour of solarisation of agriculture, which can save around Rs 12,465 crores to the state exchequer. Considering agriculture is the key driver of the economy, the State government must initiate a 'Sustainable Agriculture Mission' to rejuvenate the sector.
This mission should work in a convergence mode involving aligned departments and agencies on creation of regulatory frameworks, enabling financing and market environment and facilitating investment and technological innovations. This will lead towards transforming the agro value chain with bringing in noticeable change at the bottom of pyramid".
The conference was attended by key representatives of government departments such as energy, agriculture, rural development, along with renewable energy developers and innovators, farmers producers, think-tanks, civil society organisations, academia and other key stakeholders across the state.