Soren lays foundation stone of new unit of Dalmia Bharat's Cement Plant at Bokaro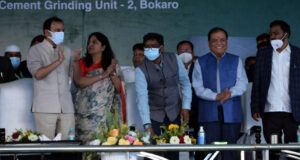 JNS: Dalmia Cement (Bharat) Limited, a leading Indian cement major and a subsidiary of Dalmia Bharat Limited, announced the official launch of its Bokaro facility through a high-profile groundbreaking ceremony officiated by the Honourable Chief Minister of Jharkhand, Hemant Soren.
The company set up its grinding unit in Bokaro with an investment to add capacity of 2.6 MTPA which will take the overall capacity of the unit to 6.3 MTPA.
Commenting on the launch of its Bokaro Facility in Jharkhand, Puneet Dalmia, Managing Director, Dalmia Bharat Limited, said, "Jharkhand is entering a new era of growth and stability with increased focus on the environment, industry, infrastructure, skill-building, education and more."
"We are here to march along with this great state through our business ambitions as well as our social and sustainability initiatives. With the launch of our cement facility in Bokaro we are confident that we will be able to forge new realities that will help boost the economic development of not just the state, but our country as well," he added.
While the company launched its Bokaro plant, it is also addressing some pressing environmental and social challenges such as climate action, livelihood generation, job skill training and social development.
Commenting on the Bokaro investment and community initiatives, Mahendra Singhi, MD and CEO of Dalmia Cement (Bharat) Ltd., said, at Dalmia Bharat, we are achieving great milestones to ensure we can keep pace with the nation's cement production needs by bringing in a new age of progressive prosperity and partnering with the community without inflicting much on the environment.
"With the support of the Government of Jharkhand we have been able to successfully launch our Bokaro plant today. We now look to move towards a circular economy by producing cement in a sustainable way through our environmental initiatives and community efforts in Jharkhand," added Singhi.
The Inclusive Development and Growth strategy of the company has enabled it to make more focused interventions in identified domains for the larger benefit of communities.