Sri Lanka Blast: death toll rises to 290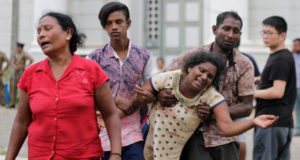 JNS: The death toll rose to 290 and about 500 people were injured after the eight blasts across Sri Lanka.
Between 8.45 am and 9 am on Sunday when Easter celebrations were in full swing, the first six blasts went off. Later, in the afternoon, at around 2 pm, another blast hit a guest house near the zoo in Dehiwala in Colombo, killing two persons. The eighth blast was reported about 45 minutes later, at a housing complex at Dematogoda in the city, which left three policemen dead.
Several foreign tourists were killed in the blasts, including five Indian nationals as confirmed by the High Commission of India in Sri Lanka. Eleven foreign nationals including one from Portugal, two from Turkey, three from the UK, and two holding US and UK passports were confirmed dead in the incident.
As per a media release by the Sri Lankan embassy in Washington DC, USA, there are 25 unidentified bodies believed to be of foreigners at the Colombo Judicial Medical Officer's mortuary.
BBC reported that by Monday morning, 24 people were arrested in connection with the blast but the Sri Lankan government is yet to confirm who is behind the attacks. Officials suspect that suicide bombs were used in some of the blast sites.
Reuters journalist Ranga Sirilal tweeted that the CID is interrogating the 24 suspects.
Two Sri Lankan ministers have alluded to an intel failure, stating on Twitter that the government had prior information about an impending attack.
Minister Harin Fernando stated that the country's intelligence agencies had received prior warnings about the terrorist attacks that took place earlier today.
"Some intelligence officers were aware of this incidence. Therefore there was a delay in action. What my father heard was also from an intelligence officer. Serious action needs to be taken as to why this warning was ignored. I was in Badulla last night," Fernando tweeted.
The Minister also added to the tweet a letter that was widely circulated on social media indicating that the Police had received prior warnings about the attacks. The spokespersons of the government previously claimed that the letter was fake.
Fernando, in his tweet, indicated that the letter was real and the authorities did not adequately pursue the matter.