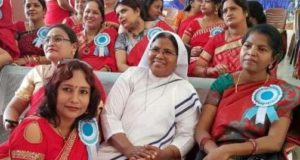 Alumni of 1993 batch of St Anna School, who settled down at different places across the globe, celebrated silver jubilee celebrations at the school campus here on Monday. The valedictory function of the 25 anniversary celebrations of our school at Purulia Road, Ranchi turned out to be an occasion for the reunion of former students (of 1993 batch) and teachers; recalled their school days, student life.
Sister Philomena, the ex-principal of the school was the chief guest at the event.
"I am here after almost 25 long years, something that I could never imagine. Today, I am happy because within this short time that so much has changed with the school but the human element has remained the same," said Neelam Singh Chouhan a successful businesswoman residing at Morabadi.
Over 40 students gathered on this occasion and we have shared our memories and explored new ideas, said Singh.
"Some students have set up own firms in India as well as in abroad, a few settled as engineers, some as teachers while some alumni are working in reputed companies at different places across the globe," she added.
At the reunion, all the attendees were seen roaming around in the campus, recollecting the memories from their good old school days. They were seen interacting with their old friends to revive the old reminiscences.
"We have enjoyed the celebrations very much," said Meenakshi, Lalita, Neelam Xalxo, Babli, Tanuja, Kavita, Archana, Rachit including others.