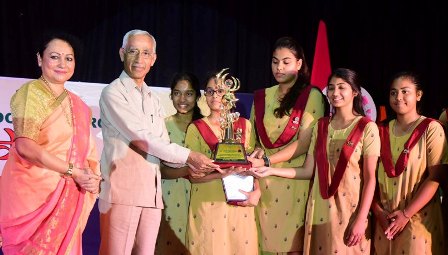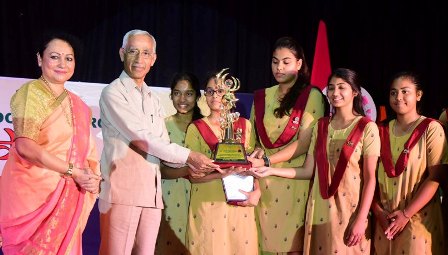 Around 200 students across the country gathered at DPS-Bokaro to take part in a host of activities during the two-day mega event 'Shabd' – a National Inter-School Knowledge Convergence Meet which was concluded on Tuesday.
Students participated in events like inter-school quiz, creative writing, visual art installation, short play, open class meet and multi-format debates of several schools including BK Birla Centre for Education, Pune; Mayo College Girl's School, Ajmer, B.V.Mandir Nainital, Vidya Vihar Residential School, Purnia, Bihar;  DPS-Ranchi, Sarala Birla Public School, Ranchi, ARS Public School, DAV Sector VI Bokaro, DPS-Gaya; DPS-Chas; DAV-Hazaribagh; DAV Public School, Sector-VI, Bokaro, MGM Higher Senior Secondary School, Holy Cross School  Railway Colony Balidih,  Adarsh Vidya Mandir, Chas, Bokaro, Bokaro, Public School and others.
Ashok Ganguly, the former Chairman of Central Board of Secondary Education (CBSE) was the chief guest of the valedictory session of the meet. In his address, Ganguly made a special note of the commendable contributions of DPS Bokaro in providing holistic education. He further acknowledged that the participants have done exceptionally well and the event has provided them a prestigious platform to exhibit their talents.
Speaking on the occasion Ganguly talked about six life-skills including- 'Mind your body', 'Mind your Food, 'Mind your Sleep', 'Mind your Stress', ''Mind your Emotion' and 'Mind your Soul'. Suggesting that everyone cannot become an IITian he remarked that one must choose their goal on the basis of their strength.
The best phase of the one's life is that of the student, so one must utilize it to its fullest, he said adding "students must avoid watching cricket on television and frequent use of computers and mobile phones must be completely avoided".
On this occasion, Dr. Hemlata S. Mohan, Director and Principal of the school remarked that "National Events like Shabd play a pivotal role in grooming the ingenuity inherent in the children and promotes their expertise."
"With the changing trends in global educational scenario students need to keep pace with the contemporary trends in vocabulary, diction and expression through skills like dance and drama," said Parnab Mukherjee, Knowledge Resource Curator and an eminent theatre personality.
In the event DPS Bokaro becomes the overall champion in Nachiketa Quiz Contest, Bharat Ratna Pt. Madan Mohan Malviya Visual Art Installation   Competition and Bhaas Invitational and Experimental Short Play while BK Birla Centre for Education, Pune won the Jaipal Singh Munda Memorial Multi-Format Debate in English and Mayo College Girl's School, Ajmer won Sri Aurobindo Memorial Creative Writing in English, school authority informed.