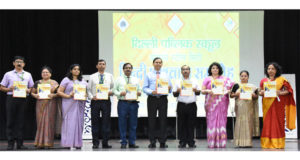 Bokaro: Acknowledging the importance of Hindi which is the most communicative language in the country, Delhi Public School Bokaro today brought out a  Hindi publication  'SWARA' to mark the occasion on 'Hindi Pakhwara (Fortnight)'  which is celebrated all over the country.
Addressing the students and teachers of DPS Bokaro in a special assembly today Principal, A.S. Gangwar said that Hindi is the most phonetic language in the world and is acknowledged by the Head of the Language Department (NASA). He emphasised that 'Hindi' is the only language that has adopted words and idioms from a number of languages across the world implementing the idea of one nation theory.
Appreciating the efforts of the students and teachers the Principal stressed on the need for quality writing in Hindi literature which unfortunately has taken a back seat as people are losing their interest in reading and writing Hindi.
Gangwar said that the school is committed to giving its best for the development of Hindi language and the release of the first edition of 'Swara' is just a step forward towards that direction. He had special words of appreciation for Anushka Srivastava of Class X whose poem 'Ek Jiwant Mrityu' revealed humane touch.