This is best time to invest in India: Union Minister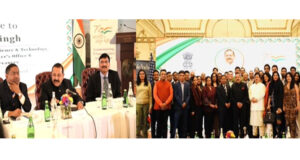 JNS: Dr. Jitendra Singh, India's Minister of Science and Technology, has stated that now is the ideal time to invest in the nation, as India is rapidly becoming into the investment destination of choice for the rest of the globe.
This was something that he discussed today with members of the Indian diaspora who were in New York. In the past eight years, according to Dr. Singh, a number of pro-business changes have been implemented.
This includes lowering the threshold at which compliance is required, doing away with the practise of retrospective taxes, and simplifying the structure of the rates at which corporations are taxed.
The Minister said, as per World Bank report India has improved its ranking in ease of doing business from 142 in 2014 to 63 in 2022.
Dr Singh also invited the Non-resident Indians and Persons of Indian origins to come and explore the great Start-up boom in India.
He said, with over 77 thousand start-ups and one hundred and five unicorns, the country's innovators, incubators, and entrepreneurs are making a mark for themselves.
"There is tremendous focus on sunrise sectors such as 5G, artificial intelligence, drones, semiconductors, Block chain, green energy and space economy in the country," he added.