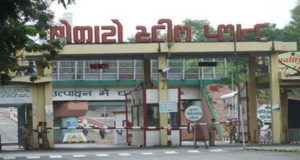 Ashis Sinha I Bokaro: At least three workers fainted after they inhaled nitrogen gas, which leaked from a transformer at Hot Strip Mills (HMS) at Bokaro Steel Plant (BSL) late evening on Monday.
Three people including General Manager V Narayan, one BSL employee and one contract worker fainted and fell seriously ill after they inhaled nitrogen gas leaked from a transformer, informed and eyewitness.
With the help co-workers, they immediately rushed to Bokaro General Hospital (BGH) where their conditions are stable, but now out of danger, said hospital sources.
According to the eyewitness, the incident occurred while installing a new transformer at HMS which was rushed from Jhansi. The new transformer was having company filled nitrogen gas and without evacuating the gas installation work was on, said the eyewitness.
For safety measures before installation, nitrogen should be evacuated from the transformer first, then after filling oil into it, installation work should be carried out, said an expert. Nitrogen gas is filled into transformer for safety reasons so that it would not become defunct especially during transportation, he said.
Blaming BSL management for negligence General Secretary of Krantikari Ispat Majdoor Sangh, Rajender Singh said, the incident occurred as safety standards were not taken care inside the plant.
"A major incident was averted as it was nitrogen gas," he said and warned management for strict implementation of safety norms inside the plant.
The conditions of all three are stable now and they are under medical observation at BGH, said MK Dhan Chief of Communication BSL.
"We have constituted a five members team to investigate the reason behind the incident," added COC.