Transgender woman sets example, offers food to needy in Covid crisis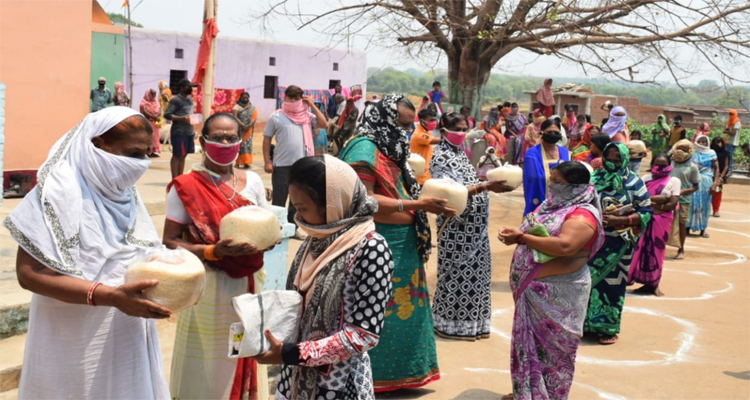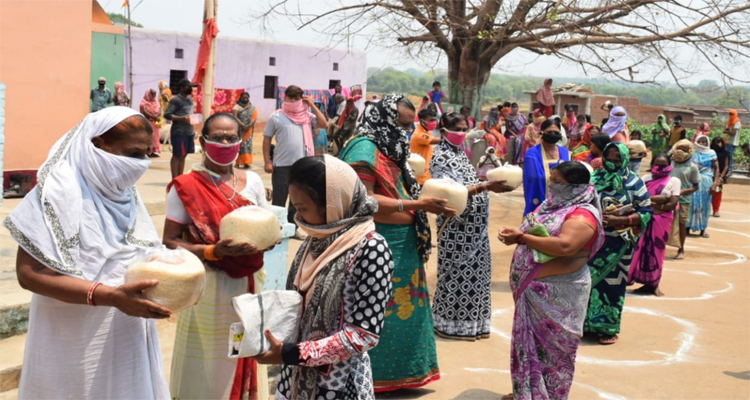 Ashis Sinha I Bokaro: Meet Rajkumari, a transgender woman, who has set an example amid the COVID-19 crisis by helping out the needy in Bokaro.
Amidst, nationwide lockdown to curtail the spread of the coronavirus Rajkumari is providing free packages of food to the needy and those living in slums.
On Friday she distributed 150 free food kits – consisting of rice, flour, oil, tea leaves, and sugar other things among the daily wage earners, residents of slum areas and other needy people in Ritudih under Marafari police station at Bokaro Steel City.
During the distribution of the food kits, she also maintained the social distancing norms. "We pray to almighty that our country become free from coronavirus infection very soon," she said.
"We use to manage our home by demanding from society, but now-a-days people are reeling under a difficult situation. In such a situation, it's our duty to give return back the society as much as possible," said Rankumari adding, "it's my duty to share those things with the poor."
I would like to urge from the affluent persons to come forward and help the needy in this adverse situation, she said.
Rajkumari, is one of them who dedicated her life for others and taking care of discarded children. Not only that, but she also arranged the marriage of those three girls whom she had found from bushes as an infant and adopted till puberty and given them a complete social dignity.
She dedicated her life to taking care of discarded children along with a blind couple since 1984. Now those couples (blind) are not alive but the children have grown up and living a happy life with their families.
Her complete dedication towards the philanthropic work teaches us a lesson by which she spreading the fragrance of love, sympathy and joy in the society. Playing the role of a mother for those children who were discarded by their own parents since their birth Rajkumari is still struggling for a better future. Presently she has five girls and two boys.
Out of seven, six of them got married; Rajkumari arranged their marriages (five girls and one boy) whom she had found from bushes as an infant. The youngest son Sambhu is yet to get married, she said.
Kaushallya, Rinku, Saraswati, Rashema and Munni are those girls who are now happily living along with their husbands and children at Nawada, Bokaro and Gopalganj respectively.
Expressing happiness she said, now, I am a grandmother ('nani') of thirteen children including eleven girls and two boys. Kaushallya has three girl children, Rinku having two girls and one boy child, Saraswati has two girl children, Reshma has two girls and one male child while my elder son has two girl children, she said.
"One more member will join our family very shortly. My youngest daughter with a hope, the birth is scheduled within this week," she added with a smile on her face.
On the money that she earns through the dance during rituals at childbirth and marriage ceremony in the city, she has adopted many other children too.
Besides these seven Upendra, Mantu, Rameshwar, Shubham, Jitendra, Amresh are few of them, now they are well settled at other cities.
Rajkumari also offers her helping hand to the leprosy-affected people and distributes blankets and clothes among them. Several times she had also cremated the unclaimed bodies of the children in the city. "I make it as a mission of my life to help the discarded children and on this move, I picked up infants left in the bushes or garbage box by their natural parents," she said.
I want that common people should come forward to help for such type of humanitarian welfare work and thus can lead a positive role in making a healthy and good cultured society.
Aiming to empower women and to root out corruption from the society Rajkumari also constituted a Self Help Group (SHG) with local housewives and named it as "New Jan Kalyan Mahila Samiti" and they are on the move.
At the age of 58, she always dressed in white shari and ready to help others.