Two sustains burn injuries at Bokaro Steel Plant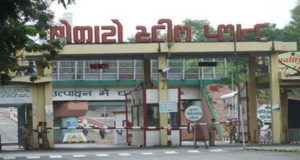 Ashis Sinha I Bokaro: In an accident at Bokaro Steel Plant (BSL) two workers sustained burn injuries; immediately rushed to Bokaro General Hospital (BGH) where their conditions are said to be stable.
Two contract workers of M/s Shiva Electricals Company R K Rajak and Gahlot sustained burn injuries due to electrical flush near at Blast Furnace-4, said an eyewitness.
"The mishap occurred at around 10 am on Friday, both of them were at work," added the eyewitness.
BSL Chief of Communication Mani Kant Dhan said, the employees working under the Blast Furnace (Electrical Maintenance) department of BSL were on duty in the MCC Panel Room below Conveyor K-9 behind Blast Furnace no. 4 at plant.
"Both contractual workmen sustained burn injuries due to a sudden electrical flash in a circuit breaker of a lighting system while attending complain of 'no light' in conveyor gallery of slag disposal system of BF-4," added Dhan.
Both workers have been admitted to BGH for treatment, are in stable condition. Now they are out of danger, he said.
Earlier on this Monday three workers got fainted after they inhaled nitrogen gas, which leaked from a transformer at Hot Strip Mills (HMS) at BSL and later rushed to the BGH.
In that accident BSL's General Manager V Narayan, one BSL employee and one contract worker fainted and fell seriously ill after they inhaled nitrogen gas leaked from a transformer during its installation.
Later, the plant management constituted a five members team to investigate the reason behind the incident.