Union Minister, CM lay foundation stone for petroleum projects at Bokaro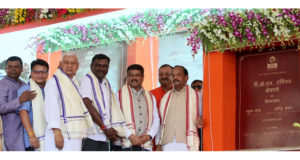 Bokaro: Bokaro is all set to emerge as an industrial hub. Union Petroleum and Natural Gas & Steel Minister Dharmendra Pradhan along with Jharkhand Chief Minister Raghubar Das laid the foundation stone of two mega petroleum projects at Bokaro on Sunday.
Minister laid the foundation stones of BPCL's (Bharat Petroleum Corporation Limited) LPG bottling plant and a POL Terminal (Petroleum, Oil and Lubricants) at Bokaro which would be the first in Jharkhand for the company.
With an estimated investment of Rs 350 crore, two mega petroleum projects soon to come up at Bokaro. The LPG plant of BPCL (estimated investments of RS 100 crore) will be spread over 20 acres at Balidih and will have the capacity of 60,000 MT per year. The plant is expected to be operational by September 2020, said Pradhan.
While a POL Terminal (investments of Rs 250 crore) will be spread over 77.5 acres of land at Radha Gaon and will have the capacity of  27,000 kiloliters. "This terminal will be equipped with all latest technology and white standard safety mechanism and is expected to be operational by September 2021," added Pradhan.
The upcoming LPG Bottling plant in Bokaro will not only cater to the LPG markets in various districts of Jharkhand but also generate thousands of direct and indirect employment, he said.
"Pradhan Mantri Ujjwala Yojana (PMUY) has empowered over 6 crore women in India, and very soon the figure will touch 8 crore households. PMUY has been a revolution and has brought smiles to the families of the poor," said Pradhan.
Speaking on the occasion, Chief Minister Raghubar Das said, Bokaro is emerging as an industrial hub. About 47 new investors are ready to invest Rs 4303 crore to establish their units here at Bokaro. "Many of them are at work while others work is in the pipeline; it will generate about 20,000 direct and indirect employments only at Bokaro," added CM.
Under the PMUY, a total of 37 lakh LPG connections have been given in Jharkhand by the oil marketing companies in the past four years and we have the plan to distribute 13 lakhs more connection be 30 September this year, he said.
Das also announced to provide 'Second' LPG cylinder 'free-of-cost' to 43 lakhs beneficiaries under PMUY by 23 September this year. The distribution of free second cylinder will starts from 23 August, he said.
There are various schemes being run for eradicating poverty in the state. We are at work to make women financially empowered. It will be done by ready-to-eat program. We will ready to spend Rs 500 crore through Sakhi Mahila Mandals on it, said CM.