Vedanta ESL Archery Academy's star performer to represent Jharkhand at Senior National Archery Tournament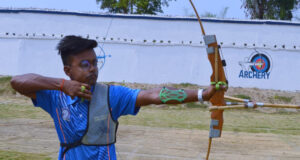 JNS I Bokaro: Vedanta ESL Archery Academy's star athlete Gulshan Kumar has qualified to represent Jharkhand at the National Archery Tournament.
Gulshan Kumar, who won gold at the Jharkhand State Level Archery Tournament in February 2021, is pursuing higher secondary from BKM Inter College at Chandankiyari, Bokaro. He completed his matriculation from Loknath Mission Public School, Bokaro.
Gulshan's father works at SAIL Bansal while his mother is a homemaker. He has three siblings – a brother and two sisters who are currently getting schooled.
Launched in December 2020, the Archery Academy is Vedanta ESL's initiative intended to promote the sport and talent in Jharkhand. Having produced some of the finest talents in archery, Jharkhand required a well-equipped academy to attract and lead the youth in the sport that requires great precision and focus. Recognizing the importance of preserving this legacy, ESL launched the academy to train individuals under experts from the field.
This year the Bokaro District Archery Championship-2021 was held at Vedanta ESL Archery Academy, Siyaljori, Bokaro, Jharkhand. The academy students won 33 medals at district and 8 medals at state level.
 N.L. Vhatte, CEO, ESL Steel Limited said, "ESL is proud to announce that one of its Archery Academy's finest talents, Gulshan Kumar, is ready to bring in cheers and accolades for Jharkhand. Our consistent efforts in promoting and uplifting the local talent are finally getting wings, and we can't be happier. Our core objective remains to imbibe a competitive spirit among the young archers. They are ready to kick-start their journeys from their respective villages to state and national level championships and I wish them all the luck."
"I am thrilled to represent my state at the National Games and would like to thank Vedanta ESL Archery Academy for their consistent support all through my journey from the District to State and now finally the National-level Games," said Gulshan.
"Their state-of the-art academy is a great initiative to lead Jharkhand's talent towards the sport that our state is known for. The academy is home to some of the most experienced archery coaches who have helped us achieve so much in such a short span of time. I am going to give my best shot at the National Games and make Jharkhand proud," he added.
The academy is fully equipped with facilities such as accommodation, dining, gym, archery kits, uniforms and medical facility and trains individuals under experts from the field. Through the initiative by Vedanta ESL, the kids and youth in Bokaro get access to the finest academy in their vicinity to polish their archery skills and shine bright in future.