Vedanta takes full control over ESL Bokaro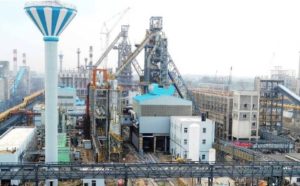 'Vedanta Star Limited' a subsidiary of 'Vedanta' took the full control of debt-ridden Electrosteel Plant (ESL) at Siyaljori in Bokaro on and new Board of Directors have been appointed, official sources informed.
"The newly appointed Board of directors Navin Kumar Singhal, Tarun Chandmal Jain and Guggilam Rajagopalan Arun took the full control of the plant and a letter has been sent to National Company Law Tribunal (NCLT)," he added. As directed by the NCLT on 30 May 2018 Vedanta Star has paid the entire upfront amount of Rs 5,320 crore into an escrow account, he said.
Meanwhile, BK Das the secretary of ESL also wrote a letter in this connection to National Stock Exchange stating to withdraw the rights of ESL's Board of directors on this plant from 4 June. The ESL has issued shares of Rs 7,400 crore, informed the ESL official. Reeling under huge debt (over Rs 10,000 crore) and acute financial crisis the management of ESL Bokaro tried hard to come up from this hurdle but all goes in vain. Later the State Bank of India started insolvency proceedings against the company; filed a petition at NCLT.
This (ESL at Bokaro) is a greenfield project promoted by Calcutta-based Electrosteel Castings Ltd, is 2.51 million tonne steel plant, designed and built by the Chinese steel major Laiwu Steel Group Limited (LSGL).
The unit is based on Blast Furnace (BF)-Basic Oxygen Furnace (BOF)-Billet Caster and Hot Rolling Route and will produce 1.2 MTPA of long steel products, comprising 0.5 MTPA of 5.5-12.0 mm diameter wire rods in coil form and 0.7 MTPA of reinforcement bars in straight lengths and bundled in the range of 8-32 mm and plain rounds up to 60 mm diameter.
The plant will have a 0.33 MTPA DI pipe production facility in the same complex and will be provided with hot metal from the blast furnaces. The plant will also have production facilities for 0.27 MTPA of commercial billets and 0.40 MTPA of pig iron.
This is the first greenfield project with the Chinese technology started its production at the end of 2011. However, a downturn in the steel business, among other factors, delayed the execution of the plant, and ESL plunged into losses continuously, said an ESL official.
Since from its beginning, ESL faced many hurdles, instead of 2500 only 1000-1200 Chinese experts got their VISA to erect the plant, later their VISA was not renewed and they leave India after leaving work incomplete which delayed the project.