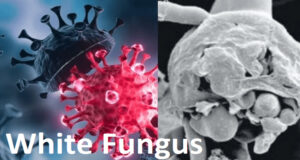 Ashis Sinha I JNS: Amidst India is struggling to combat the deadly growing COVID-19 cases, a large number of a rear infection "Black fungus" (Mucormycosis) among the people recovering from the disease created mayhem, now newfound threat "White fungus" is growing in India.
According to the reports, the "Black Fungus" triggered by COVID-19 has claimed more than 200 lives and affected at least 7,000 people in India.
Cases linked to "white fungus" (Candidiasis) infection have been traced in Bihar and UP on Wednesday, which is more lethal, believes medical experts.
Four cases of "white fungus" were detected at Patna Medical College and Hospital (PMCH) in Patna (Bihar), while one is traced in a patient from Mau district in Uttar Pradesh.
All four people infected with white fungus showed coronavirus-like symptoms but tested negative for COVID-19, said DR SN Singh, Head of Microbiology Department at PMCH.
The oxygen saturation level of one among the four patients detected with the white fungus was also found dropped, said a medical expert of PMCH.
"The patients were treated with antifungal medicines after the white fungus was detected, and their conditions have since improved," said the expert.
The fungus is assumed to be more dangerous in cases with weak immune systems, including diabetes patients and those taking steroids for a long time during the treatment of severe COVID-19.
Unlike the black fungus, the white fungus infection spreads more easily to the vital organs, including the lungs, kidneys, intestines, stomach, private parts, and even the nails, and causes widespread infection, experts said.
In pregnant women and children, white fungal infection may be risky, as reported. Hence, adequate emphasis should be given to sanitation and purification of supplies and environment because a suspect patient can inhale molds directly.
Meanwhile, a 70-year-old man who has previously treated with COVID-19 in Delhi hospital in April and discharged after recovery detected the white fungus at Mau district in Uttar Pradesh.
According to the reports, after his recovery from COVID-19, he was consistently on steroids. As a result, he developed eye floaters (the substance of jelly within his eyes) after some time and loses his sight. Later the White Fungus infection has been confirmed after his vitreous biopsy was carried out, it reported.
The infections from "white fungus" can be avoided very easily, said Dr Singh. For this, the equipment of patients on oxygen or ventilator, especially tubes, must be bacteria-free.
"Strylize water should be used for oxygen cylinder humidifiers and protect the patients from this fungus. It is necessary to ensure that the patient who is taking 'oxygen' is virus-free," added Dr Singh.
Meanwhile, the main reason for the spread of "White fungus" is still unknown. The medical experts believe an HRCT scan may be required to trace the fungal infection, as the reports claimed.