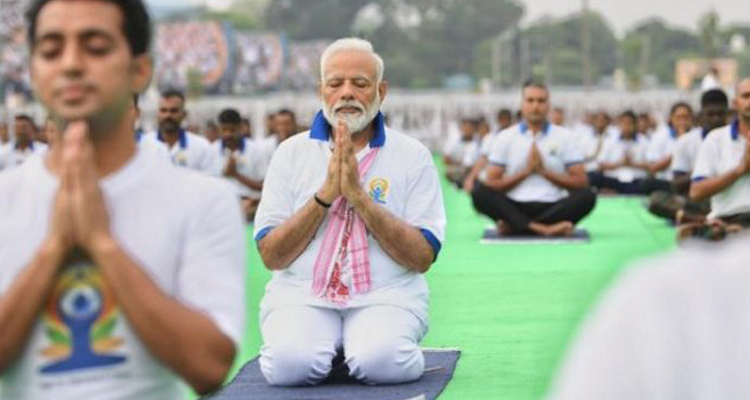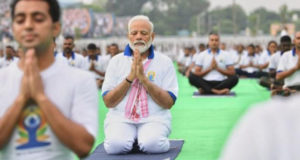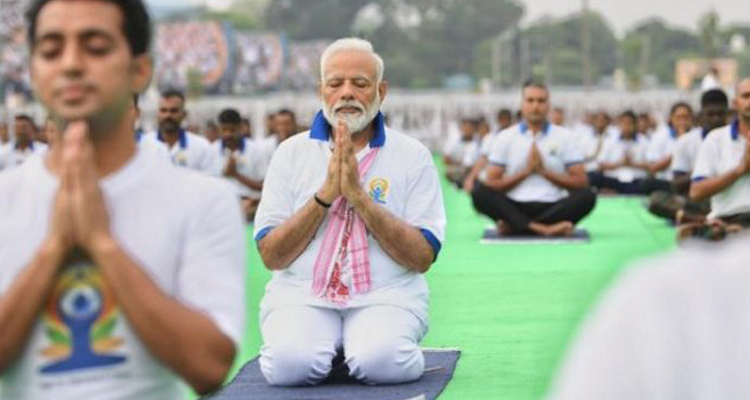 JNS: Over thousands of people stretched and twisted, breathed in and breathed out, reached for the skies and bent to touch their toes as India and the world marked the fifth International Yoga Day on Friday.
Prime Minister Narendra Modi joined the International Yoga Day programme at Prabhat Tara Ground, Ranchi in Jharkhand. Along with Modi, Jharkhand Governor Droupadi Murmu, Chief Minister Raghubar Das, Union Ayush Minister Shripad Yesso Naik and State Health Minister Ramchandra Chandravanshi joined the event. Five cities – Delhi, Shimla, Mysore, Ahmedabad and Ranchi – were shortlisted by the Ayush ministry for hosting the main event and sent to the Prime Minister's Office (PMO) for final selection. However, Ayush ministry selected Ranchi for hosting International Yoga Day. Earlier, the Yoga Day function has been held at Delhi, Chandigarh, Lucknow and Dehradun.
The fifth International Yoga Day was observed with great enthusiasm across the world; people from all walks of life lauded yoga as a tool for good health. June 21 is being observed as the International Yoga Day every year after the United Nations accepted India's proposal in 2014.
Addressing about 40,000 people at the event the PM emphasised on the importance of yoga in the day-to-day life of an individual in keeping healthy and peaceful body and mind. He said the art and science of yoga needs to be passed on from cities to villages so that poor people could also be benefitted with the ancient system of being healthy without spending much on medicines for their health.
Modi said, "I wanted to take yoga an integral part of the lives of the poor. Yoga is a preventive measure to keep an individual healthy. Diseases make a poor person poorer. I want to take yoga from cities to villages, to the jungles to the poor and the Adivasi (tribals), so that they learn the art of remaining healthy at the same time cutting their expenses on medicines."
The PM said that despite yoga being an ancient art of exercise gifted to the World by India has still to reach to villages, asking the people to make yoga a motto for peace, harmony and progress.
The PM said Yoga is an age-old exercise practice being an integral part of Indian culture. Jhakhand's Chau Dance has several forms of Yoga. Modi on the occasion emphasized of shifting from illness to wellness and in this endeavor Yoga can play an important role. He said, "Yoga is not done only when you are working out in open ground, mat, but Yoga is discipline, devotion and dedication and an individual has to follow the Yoga rules lifelong."
When a section of people are opposing Yoga claiming it against a particular religion especially the Surya Namaskar, the PM said, "Yoga is above age, colour, caste, creed, religion, rich and poor. Yoga is for everyone and everyone is for Yoga."
The PM along with Governor Droupadi Murmu, Chief Minister Raghubar Das, Ayush Minister Shripad Yesso Naik and health minister Ramchandra Chandravanshi and large number of government officials performed more than 13 asanas (Yoga postures) lasting for more than 45 minutes.
The PM said that large numbers of youths are turning up towards Yoga and the Union Government for promotion of Yoga has instituted awards for contribution in Yoga.