Auto-irrigation System developed by IIT-ISM Dhanbad receives grant from IEEE, USA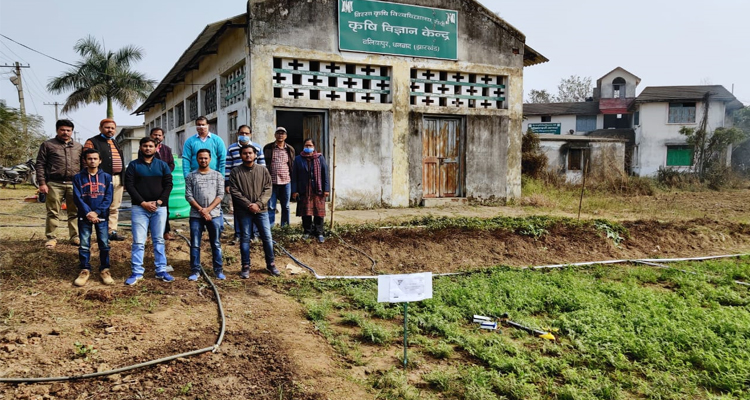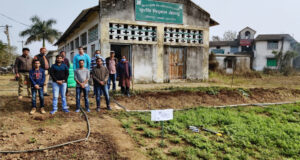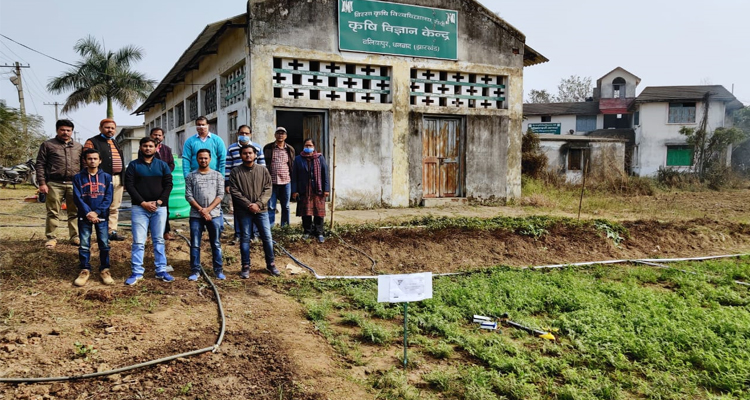 Ashis Sinha I JNS: Auto-irrigation and Soil Monitoring System developed by IIT ISM Dhanbad team for COVID-19 migrant engagement have received a grant from IEEE, USA to scale up.
The Project is being carried out by Professor Rajeev Kumar Ranjan, Department of ECE and his team. Now the project has been installed in various locations of Dhanbad including Koyla Nagar Eco-park, Rajendra Sarovar Park under Dhanbad Municipal Corporation, Krishi Vigyan Kendra Baliyapur, and Sardar Patel Nagar, Hirapur, informed a Public Relations Official of ISM.
IIT (ISM) Dhanbad team lead of Professor Rajeev Kumar Ranjan and Dr Dhiraj Kumar, includes the members Pushkar Srivastava, Ankur Chourasia, Virmani Harshvardhan Solanki, Kapil Verma, Sanal Roy, Om Kumar, and Rahul Gupta has done the research and developed a new Smart Auto-Irrigation and Soil Monitoring system. It (project) was morally supported by Dean R&D Prof. Shalivahan and Director Prof. Rajiv Shekhar.
The project was primarily focused on motivating and engaging underprivileged families of farmers affected by COVID-19 to take up agriculture, powered by the promising new system, as a permanent source of income in their native places, he said.
We have a goal to further develop the project into an effective food security system using Artificial Intelligence that can predict various crop-failure scenarios before it is too late, said Prof. Rajeev.
"Our research is also going on for developing a unified database system that can predict the crop that should be grown for better yield in the concerned area. Solar panels can be used for supplying electricity to the system, thus making it more sustainable," he added.
The proposed research ideas can be implemented with proper financial and administrative support from government organizations, he said.
This project is part of the IEEE HAC (Humanitarian Activities Committee) and IEEE SIGHT's (Special Interest Group on Humanitarian Technology) response to the current COVID situation in which one institute from selected developing countries have been selected to improve the COVID-19 situation in their society by the means of technology, said Prof. Rajeev.
The project was granted a research fund of USD 3,700 to kickstart the initiative of IIT (ISM) Dhanbad for empowering the people of Dhanbad. The older Irrigation technologies lead to a lot of water wastage and the district has been facing water shortage for a long time which discourages people to take up farming in the area and go for better opportunities in nearby metropolitans.
The project is helping a lot to the farmers as well as the COVID-19 migrants who are less skilled at farming in coming out with a more proficient way of irrigation. The system has been designed to overcome the unnecessary water flow into the agricultural lands using a sprinkler system. Temperature, moisture, and humidity readings are continuously monitored by using sensors, he said.
The system has a lot of features included but not limited to automatic irrigation, control through multi-language Android app, farmer less-irrigation support, 24/7 monitoring, modular design with support for multiple sprinklers or pumps. All of this is easily managed by an android application which is developed by students and now available on Google Play Store with the name AgroPro, said Professor.
"The interface is designed to be minimal, having an easy-to-use interface where most tasks are automatic that doesn't require human intervention. Migrant workers who were staying in urban areas have skills that can be scrupulously utilized in imparting basic competence to the farmers and put an end to the orthodox methods of irrigation practice," he said.
"The new system is cost-effective and can be easily borne by a farmer. The maintenance cost is also very low," added Prof. Rajeev.