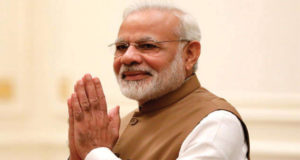 JNS/New Delhi: Prime Minister Narendra Modi invited Indian youths to participate in the 'Digital India Atmanirbhar Bharat Innovate Challenge'.
In a bid to promote and identify the best homegrown apps being used by the citizens, Prime Minister Narendra Modi on Saturday launched Aatmanirbhar Bharat App Innovation Challenge. The challenge is aimed at promoting the Indian apps which have the potential to scale and become world-class apps in their respective categories.
After India banned 59 Chinese apps including TikTok, SHAREit, Xender, US Browser, Baidu map, Helo, Mi Community, Club Factory, WeChat and UC News amidst the anti-China sentiment due to the border tension between India and China, the challenge has been launched.
PM Modi tweeted, "This challenge is for you if you have such a working product or if you feel you have the vision and expertise to create such products. I urge all my friends in the tech community to participate."
In a LinkedIn post, Prime Minister Modi mentioned about the vibrant tech and start-up ecosystem in India and how the youngsters have excelled in providing tech solutions across sectors.
"India has a very vibrant tech and startup ecosystem, which has done India proud nationally as well as globally. Our youngsters have excelled in providing tech solutions across sectors," the PM said.
"The Covid-19 Pandemic has also brought about a big disruption, which is being tackled through the use of technology to aid our day to day lives," he added.
He said while the nation is working towards creating an Aatmanirbhar Bharat, it is a good opportunity to give direction and momentum to evolve apps which can satisfy "our market as well as compete with the world".
"Nowadays, we are seeing huge interest & enthusiasm among the start-up and tech ecosystem to innovate, develop and promote homegrown apps," the PM said.
The Ministry of Electronics & Information Technology along with Atal Innovation Mission has come up with the Aatmanirbhar Bharat App Innovation challenge to run in two tracks – promotion of existing apps and development of new apps.
This challenge will be jointly hosted by the government and members of the tech community to make it more holistic.
The PM urged the tech community to participate and help create an Aatmanirbhar App Ecosystem.