Bihar Assembly Poll: BJP to contest on 121 seats, JD (U) in 122 constituencies under seat-sharing; LJP to go alone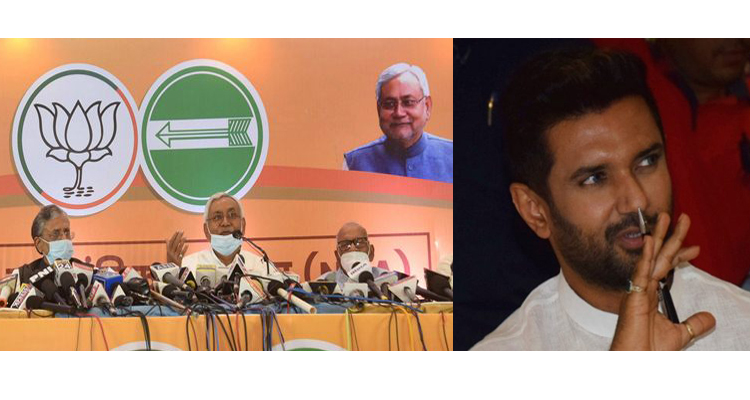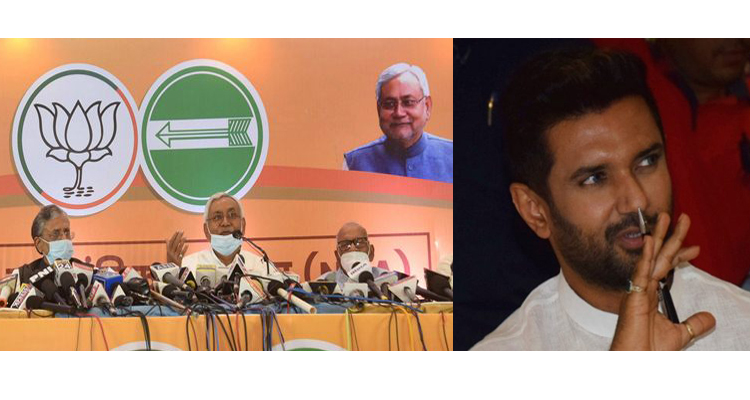 Patna: In Bihar, BJP and JD (U) today formally announced a seat-sharing deal in NDA for state assembly elections. With a larger share, the JD(U) will contest on 122 seats while BJP will field its 121 candidates in 243 member state assembly.
Making a formal declaration of this in a joint press conference held in Patna, JD (U) president and Chief Minister Nitish Kumar said, JD(U) has given 07 seats to Hindustani Awam Morcha (HAM). The party is led by former Chief Minister Jitan Ram Manjhi.
Kumar said, BJP will adjust assembly seats for Mukesh Sahani led Vikas Sheel Insan Party (VIP) from their own quota of 121 seats. The BJP is negotiating over alliance and seat-sharing formalities with VIP.
NDA will go to the polls with agenda of development and their achievements, said JD(U) president.
The list of contesting candidates one by one was not announced by NDA leaders. The leaders said, it will be released later.
In the press conference, the senior BJP leader and Deputy Chief Minister Sushil Kumar Modi snubbed the Lok Jan Shakti Party (LJP) president Chirag Paswan over his statements of post poll alliance and helping NDA.
Sushil Modi said those who will accept the leadership of Nitish Kumar will be in NDA. He said, LJP is not in alliance with NDA in Bihar.
On some instances, the BJP leader warned other parties sans BJP, JD(U) and HAM to refrain from use of name and pictures of Prime Minister Narendra Modi in elections.
He said the party will approach the Election Commission in this regard to issue prohibitory orders under Model Code of Conduct.
According to the reports, except Hindustani Awam Morcha (HAM), the two parties JD(U) and BJP have not announced their formal list of candidates. Some candidates of JD(U), HAM and RJD have started filing their nominations for the first phase of assembly elections. So far RJD and Congress has also not formally declared name of their candidates in Grand Alliance.
But the new ally of Grand Alliance the left parties have issued the candidate wise list of their overall quota of 29. Among prominent candidates from JD(U) the state transport minister Santosh Nirala today filed his nomination from Rajpur assembly constituency.
Former speaker of state assembly Uday Narayan Choudhary filed nomination on RJD symbol from Imamganj assembly constituency. Only two days left for the filing of nominations in the first phase. The scrutiny will be held on 9th October. In this phase polling will take place on 28th October in 71 constituencies spread over 16 districts.
Meanwhile, Lok Janshakti Party (LJP) has decided to contest alone in the assembly poll. The three-phase assembly poll set to begin on 28 October.
Chirag Paswan announced on Sunday that the LJP will not contest the elections under the National Democratic Alliance (NDA) but made it clear that the party will not field candidates against the BJP.