Bokaro Students Shine in CBSE Xth Exams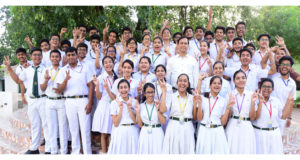 Bokaro: Bokaro students once again performed exceptionally well in the Class X examination of the Central Board of Secondary Education (CBSE), the results were declared on Monday.
Among the toppers, Smriti Raj students of Chinmaya Vidyalaya scored 98.6 percent marks with hundred out of hundred marks in Math, Hindi, Social Science and IT while 98 marks in English and 25 in science, informed Sanjeev Kumar PRO Chinmaya Vidyalaya.
While Shruti Sinha and Krish, students of Holy Cross School Bokaro scored 98.4 percent and Anirvan student of Holy Cross and Priyanshu Ranjan student of DPS Bokaro scored 98.2 percent marks in the exam, school authority informed. Forty-two percent students of Chinmaya Vidyalaya scored more than 90 percent marks in the exam, informed Sanjeev. Chinmaya Vidyalaya student performed well and school scored 100 percent aggregate result while DPS's grabbed average aggregate result of 91.09 percent.
DPS Bokaro students delivered brilliant results in CBSE X examination, at lest 69 students got more than 95 percent while 155 students secured more than 90 percent marks, informed Mritunjay Sharma, Administrator cum PRO of DPS Bokaro."All total 215 students scored more than 70 percent while 201 students got more than 80 percent with the School Average Aggregate being 91.09 percent," he added.
Among others, Varun Tandon (98.00), Anannya Srivastava (97.80), Utkarsh Kumar and Deepali Diwakar (97.40), Utsav Shekhar, Yash Aryan, Deepanshu Kumar and Jayanti Sethi (97.20), Amisha Singh, Aditya Ray Mishra, Mayank Anand, Nandani Shree, Aditya Agrawal and Om Sandilya (97), Ankita  Pandey, Aditya Raj, Insha Raza, Shivansh Pandey and Yash Bakshi (96.80), Atahar Kaif and Sahil Gupta (96.60), Shreya Shree, Debdipto Biswas and Anoushka Singh (96.40), Amrit Mishra, Srestha Prasad, Tanushree Jha and Esha Tripathi got 96.20 percent marks, he said.
A S Gangwar, Principal DPS Bokaro and Dr Ashok Singh Principal of Chinmaya Vidyalaya congratulated the students for their success and blessed them for their bright future.