DPS Bokaro celebrates International Sports Day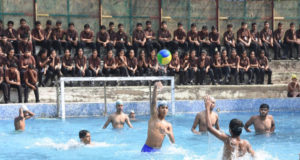 JNS: Commemorating the most valued sporting occasion on the earth, Delhi Public School Bokaro observed the International Day of Sports for Development and Peace (IDSDP) on Saturday (April 6). DPS Bokaro- a constituent school for Olympic Family's 12th International Youth Forum hosted this RUN for PEACE in the eminent presence of the Guest Jaideep Sarkar, Executive Board IDSDP.
On this occasion various activities like water polo, basketball and volleyball were organized where teachers participated with the students with the true spirit of sportsmanship.
The International Sports Day originated on August 23, 2013, when the UN proclaimed that the International Day of Sports for development of peace would be celebrated on April 6 each year. It recognises the power of sports in promoting peace and erasing cultural barriers worldwide. This day promotes a healthy lifestyle and emphasizes the International Olympic committee's focus on giving more people access to sports. This day also marks the opening of the first modern Olympic Games at Athens in 1896.
Addressing the gathering of spirited students and other faculty members Sarkar said, "You can win the world with sports and the everlasting blessed impact of sports is to be carried forward by the students to maintain a healthy and wealthy society."
Encouraging sportsmanship, A S Gangwar, Principal DPS Bokaro said, "Sports is a powerful tool to strengthen social integrity, promote solidarity, fraternity, tolerance and brotherhood amongst all. It erases all the cultural barriers upholding harmony and peace."