DPS Bokaro teachers selected as Counsellors by NCERT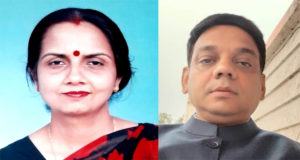 Bokaro : Recognising the role of guidance and counselling to help students' in this pandemic crisis and to facilitate them to develop a positive attitude towards self-care and community, NCERT has selected two teachers of DPS Bokaro as counsellors.
It is indeed commendable that NCERT has announced to offer "Counselling Services for School Students" at this time of global Corona crisis when the students have to remain indoors. In this endeavour Shalini Sharma and Lall Subendra Nath Shahdeo of DPS Bokaro has been selected as counsellors by NCERT, informed Mritunjay Sharma PRO DPS Bokaro.
The two teachers are amongst the 42 teachers selected from Eastern Zone for counselling, he informed.
In Bokaro Steel City the students, parents and guardians can contact Shalini Sharma  in her mobile number 9031011884 from 4 pm to 7 pm. Enquiries can also be made through the email Id: sn.maulshree@gmail.com and Lall Subendra Nath Shahdeo can be contacted for Karanjia city in his mobile number 7653988898 from 9 to 2 pm and through mail: lallsubhendra.shadeo@gmail.com.
A S Gangwar Principal DPS Bokaro said, Isolation and social distancing are quite challenging especially for the young generation who loves to interact and explore. I am extremely happy that my team members are selected to contribute their expertise to help build a happy society. "I wish them all the best for this noble endeavour," he added.
The trained counsellors will work towards de-stressing the students. The counsellors have been also requested to share this initiative with as many students, teachers, parents, other stakeholders of school education on the phone, email, WhatsApp groups, Facebook, etc. so that the information reaches the child who needs help, support and guidance.