'Dynamic School Award' to DPS Bokaro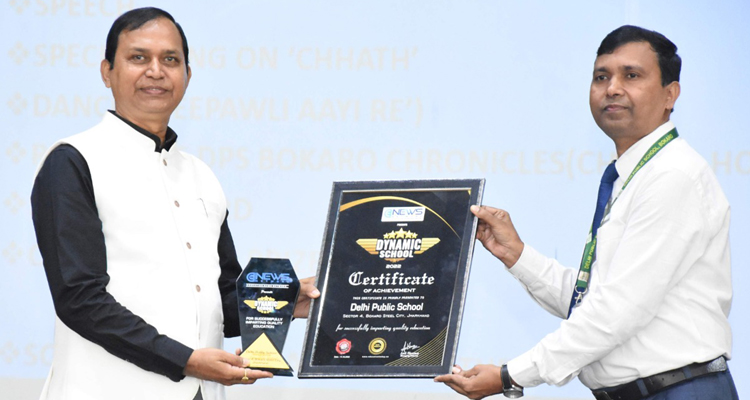 Bokaro: Delhi Public School Bokaro has been adjudged as "Dynamic School 2022" across the country by "Education Today"— a leading academic journal. This award has been given to the school in recognition of its contribution in the fields of innovation, 21st century skill development, efforts for holistic development of children and other initiatives to stimulate critical thinking skills.
During a special assembly organized today to celebrate Deepawali & Chhath, Vice Principal Anjani Bhushan presented the award to Principal, Mr. A. S. Gangwar. The Principal extended his gratitude to the stakeholders for their continued support. He said, "I dedicate this award to my students who with their diligence, perseverance and unstinted commitment have excelled in all aspects." He added that the credit of this award goes to every member of DPS Bokaro who has left no stone unturned to ensure the best for the students.
On this occasion, the bimonthly newsletter, 'DPS Bokaro Chronicles' an initiative by Chenab House was unveiled by Principal, A. S. Gangwar. It is worth mentioning that DPS Bokaro is constantly making innovative efforts for excellence. The school is upgraded with state-of-the-art technology. Recently, the school has inaugurated the Commerce Lab to build financial literacy skills. Apart from this, the school is also the home to the skill hub. In the Primary Wing, children spread the beautiful sparks of Diwali and Chhath with song and dance presentations.
The arena adorned a festive look with shimmering and glittering lights. To welcome the festivities a colourful presentation by the students of Classes IV and V celebrated the return of Lord Rama after 14 years of exile.
Melodious songs on Chhath by the students of Senior Wing, 'kanch hi baans ke bahangiya…' and 'ham tohse poochhe li…' imbued a devotional spirit establishing the sanctity of Indian culture and tradition, promising a holistic development of each child under the school's tutelage.  The beautiful dance performance on the song 'Diwali Aai Re…' enthralled the audience.