"Hammer" beats "Star Warrior" by Six wickets
by Ashis Sinha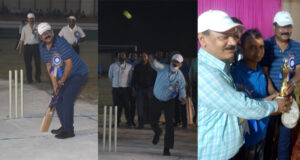 JNS I Bokaro: Five-day Inter-Departmental Day-Night Cricket Tournament kicked off with great zeal and enthusiasm at Football Ground Chandrapura. The cricket tournament is being organised by Chandrapura Thermal Power Station (CTPS), a unit of DVC.
The match was inaugurated by Chief Engineer and Project Head Ajay Kumar Dutta and Chief Engineer Sunil Kumar Pandey.
In the first day, 'Hammer' team defeated 'Star Warrior' team by 6 wickets in the first day of the inter-departmental tournament; by scoring 40 runs Awadhesh Sharma was declared "Man of the match", informed a Public Relations official of CTPS.
"In the opening round, Star Warrior's team scored 107 runs by losing six wickets while the Hammer team scored 108 runs for the loss of just four wickets," added the official.
The match was started with batting first by Ajay Kumar Dutta, Chief Engineer and Project Head, bowled by Sunil Kumar Pandey, Chief Engineer O&M.
Speaking on the occasion, Dutta said, the residents of Chandrapura should enjoy the atmosphere of this friendly match. During the past two years, people had recovered from a dreadful disease caused by the coronavirus. Now people must be mentally and physically strong.
"We hope that by organising such a sports event or programme, we can create a positive atmosphere for local residents. Everyone should forget about the sad or bad time and enjoy this match-like festival, which is played without discrimination," added Dutta.
Jaswinder Singh and Vishal Kumar were in charge of referees during the first-day tournament, while Pradeep Kumar Srivastava and Sarvjit Singh did the commentary.
Besides others, Deputy Chief Engineer Satyendra Kumar Sharma, Kamta Prasad, Rakesh Ranjan, Dr. KP Singh, Dilip Kumar, Rajiv Ranjan Singha, Rajiv Kumar, Pramod Kumar Jha, Ajay Kumar Singh, Anil Kumar Singh, Ravindra Kumar, Subhash Dubey, M.K. Jha, Sameer Akhouri MK Singh, Akshay Kumar along with local residents were present there.