IIT-ISM at work to develop a Solar-powered water filtration system with nanomaterials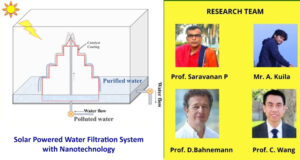 Ashis Sinha I Dhanbad: Department of Environment Science and Engineering of IIT-ISM Dhanbad is developing nanomaterials for the solar-powered water filtration process.
The Environmental Nanotechnology research team led by Dr Saravana includes A Kuila, Professor D Bahnemann and Professor C Wang, involved in developing advanced and emerging nanomaterials for the solar-powered water filtration process, informed Rajni Singh, Associate Dean, Media & Branding of ISM.
"My team is working on a imprint project which is funded by SERB the intends to provide a cheap solar-powered water filtration system to people in urban and rural areas," said Professor Saravanan.
"We put a lot of efforts into developing advanced nanomaterials that can gather solar energy and purify water effectively," he added.
A unique hybridised nanomaterial containing Silver Vanadate (AgVO3) and Bismuth Oxychloride (BiOCL), and a silver nanoparticle has been developed and tested for solar water purification, said Professor Saravanan.
"The developed hybrid material readily removes complex Bisphenol, generated as waste during the manufacturing the plastic bottles that we uses in day to day life. These pollutants are classified as Endocrine Disturbers, which are substances that disrupt the human hormone system," he said.
Our team is the first to report such findings, and this research work was published in 'Applied Catalysis B: Environmental' Journal, he informed.
This project collaborates with leading German and Chinese universities, including Leibniz Universitat Hannover, Hannover, German and Shaanxi University of Science and Technology.
The core team is currently in the process of fabricating a Solar Photocatalytic reactor for eliminating such aquatic contaminants through a three-stage water purification system, said Professor.