India, Germany sign joint declaration of Intent on Indo-German Hydrogen Task Force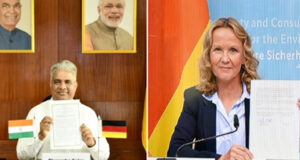 #India, Germany signs joint declaration of Intent on Forest Landscape Restoration
JNS: India and Germany have signed a joint declaration of intent to collaborate on the Indo-German Hydrogen Task Force. RK Singh Minister of Power and New and Renewable Energy and Germany's Minister of Economic Affairs and Climate Change Dr. Robert Habeck signed a joint declaration.
Speaking on the occasion, Singh remarked that India has emerged as one of the world's leading leaders in the energy transition, with the world's fastest growth in renewable capacity.
The Indian government plans to increase its non-fossil fuel capacity by 500 GigaWatt by 2030. India is putting in bids for green hydrogen, the minister said.
Singh invited the German industry to compete in India's development of this ecosystem.
Notably, both countries also have signed joint declaration of Intent on Forest Landscape Restoration. The joint declaration was signed virtually between Environment, Forest, and Climate Change Minister Bhupender Yadav and Minister for Environment and Nature Conservation of Germany Steffi Lemke.
Speaking on the occasion, Yadav said, the joint declaration will provide the platform to further advance our partnership and support in areas like conservation and restoration, climate protection, and conservation of biodiversity.
He said, the joint declaration will enable both the countries to successfully partner with each other and expand the bilateral cooperation in the areas of forest landscape restoration, environment, and climate change. "This will also help in strengthening Indo-German Cooperation," he added.