Janta Curfew begins across India to check Covid-19 spread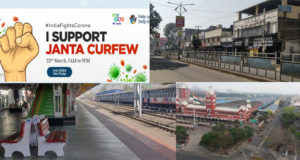 JNS: A 14-hour long Janta Curfew has come into force on Sunday (on March 22) morning (from 7 am). Several roads are deserted, Railway and Metro stations closed and public places shut down as the country is observing Janta Curfew to break the chain of transmission of coronavirus disease Covid-19.
Covid-19 has killed four people so far and infected more than 300 in the country. All citizens barring those working for essential services are required to stay indoors during 14 hours of self-quarantine.
India is currently at stage 2 of Sars-CoV-2 virus transmission. Today's 'public curfew' is a precautionary measure meant to lessen the chances of the coronavirus disease from spreading to more people and ensure that the country does not slip into Stage 3 – that of community transmission.
Hindustan Times reported, "This is the first major step to prevent person-to-person transmission of the Sars-CoV-2 virus. First, this move will help in checking the spread of the virus from the infected people to others. And secondly, it is an opportunity for the people of the country to test themselves for bigger challenges that lie ahead, as Prime Minister said," said Dr Arvind Kumar, in a video posted on Twitter handle MyGov India.
The Prime Minister, in his televised address to the nation on Thursday, asked people to stay in the safety of their own homes as much as possible during the duration of the Janta Curfew. However, people can step out for absolutely essential services like an emergency situation or necessary healthcare.
Meanwhile, Indian Railways today announced that it has decided to cancel all passenger trains till 31 March.