PM Modi to inaugurate "Gita Gyan Yagya"— free series of talks on Gita on May 8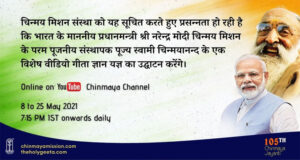 JNS: Prime Minister Narendra Modi will inaugurate the "Gita Gyan Yagya" on May 8 at 7.15 pm, organized by Chinmaya Mission on the YouTube channel of Chinmaya Mission globally. This free series of talks in English will be available on the Chinmaya Channel (on YouTube) from 8 to 25 May daily for 45 minutes.
"The seventh chapter of the Bhagavad Gita would be preached in the Gita Gyan Yagys," informed Swamini Sanyuktanand, the Resident Acharya of Chinmaya Mission Bokaro.
"Gurudev Swami Chinmayanand gave discourses on the Bhagavad Gita, Ramayana and all the Vedas in a straightforward language; provided spiritual knowledge to the society and in a bid to give spiritual strength to them," she added.
The video of the discourse given by Chinmayananda Saraswati binds the society again in the spirit of devotion, and it helps to learn the art of living even in adverse situations in life, she said.
"The Bhagavad Gita is a style of living," added Swamini.
In one of the articles written by Swami Chinmayananda said that, the Bhagavad Gita brings solace to our agitated minds blame to our injured egos and relief to our over-wrought brain.
The Gita has no artificial remedy for the disorders that beset us. It seeks to eradicate the varying cause of the disorder and, hence, the necessity to have patience, perseverance, and great faith in the values preached by the immortal words.
"In the present time, across the world and especially in India, there is a greater requirement for pace and comfort of mind to gather the courage within and to deal with all the emotional turmoil that the pandemic has brought with it," she added.